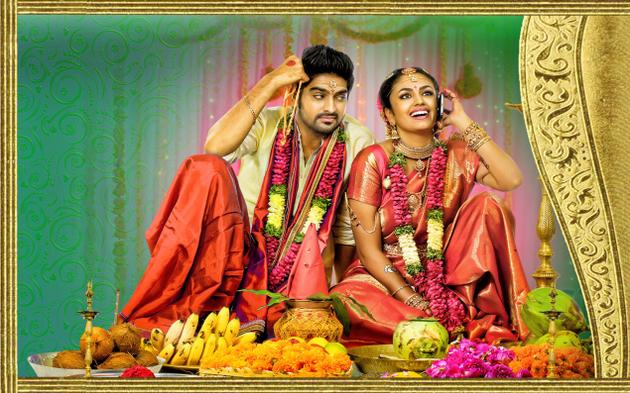 Director Nandini Reddy's Telugu movie "Kalyana Vaibhogame," starring Naga Shourya and Malavika Nair, has received mixed reviews from the audience.
"Kalyana Vaibhogame" is a romantic comedy movie written by Nandini Reddy. The film is about how two very different people find love in spite of not having any interest in marriage. The movie presents two different perspectives of marriage. The younger generation is not interested in weddings and the rituals that come with it, while an older generation enjoys all the ceremonies of the sacred celebration.
The audience say "Kalyana Vaibhogame" is a good family entertainer with an interesting storyline. The first half of the movie has slow-paced narration, but the presentation of urbane setup makes it a good watch. The second half is also good with some family moments. Overall, it is a decent attempt by the director.
Naga Shourya has played a Video Game designer, while Malavika Nair appears as a Medico, who is an empathetic and innocent girl with a touch of humour. Both have delivered decent performances and their chemistry is also good. Raasi, Aishwarya, Pragathi, Gemini Suresh, Raj Madiraju and Swapnika have also done justice to their roles.
Nandini Reddy has been successful in tapping out good work from the technical team. Kalyan Koduri's music, beautiful picturisation, art direction and costumes are the big attractions in the technical front, the viewers add in their verdict shared on Twitter. Here is the live update of the "Kalyana Vaibhogame" movie review by audience:
$ha$hank ‏@shasha1495
#KalyanaVaibhogame avg 1st half with little humour!Not as expected but good in parts. Need a magical touch in the 2nd half!
Varun Kilaru ‏@varunkilaru 22m22 minutes ago
#KalyanaVaibhogame - neat movie... Dragged unnecessarily for 20 mins towards d end.. Shourya was competent but Nani wud ve created magic!
Mahi Chowdary ‏@Mahi_09_02
#KalyanaVaibhogame done with first half... It's pretty good.. Waiting for second half #KalyanaVaibhogame done with film, avg film, dragged and lengthy second half drops the film ...
TollywoodAndhra ‏@TollywoodAndhra
#KalyanaVaibhogame is a joyful ride mixed with Family Emotions. Good comeback film for Nandini Reddy. Should work at the Box-office.
Saee ‏@saeekoundinya 16m16 minutes ago
@ActorShaurya @Iamkalyankoduri just saw #KalyanaVaibhogame. Definitely paisa vasool. Music super, acting supernandinireddy back with
Chandramouli ‏@moulitalks
Chakkandala chukka from #KalyanaVaibhogame too good.. Kind of song u expect from @Iamkalyankoduri remaining not so good!
9 PM ENTERTAINMENTS ‏@AbsoluteCinemas
Watched #KalyanaVaibhogame #Superhit #comedy #Sentiment.Congratz to whole team @ActorShaurya @Iamkalyankoduri
Telugu360 ‏@Telugu360
#KalyanaVaibhogame Interval update : Good story line. Decent effort. @ActorShaurya excelled in #KalyanaVaibhogame. #KalyanaVaibhogame is a commendable effort by the team. Great work by the team.
Ram ‏@Ramanonymouss
First half was entertaining #KalyanaVaibhogame #KalyanaVaibhogame superb entertaining movie fully enjoyed 3.5/4 #abbaithoammayi < #KalyanaVaibhogame
Shankar Datta ‏@dattasankar2805
First half baagundi with good comedy..#KalyanaVaibhogame
Prem Chand ‏@Premchandsayz
#Kalyanavaibhogame is a out and out family entertainer. #NandiniReddy mark film. This week my choice