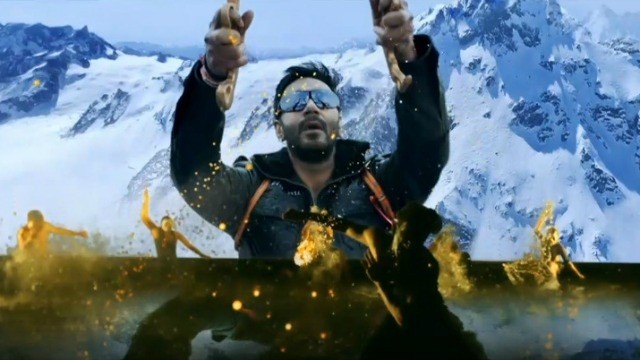 Ajay Devgn's Shivaay (Shivay) has fared well at the worldwide box office and its total gross collection has surpassed the Rs 70 crore mark in the global market in four days.
Shivaay was released in over 3,000 screens across 60 countries including Germany, France, Italy, Austria, Switzerland, Denmark and Chile on October 28. The movie opened to good response everywhere on Friday and remained strong on the following days. The film has emerged as one of the big money spinners in the career of Ajay Devgn.
Having shown massive jump on Monday, Shivaay has collected Rs 45.91 crore nett at the Indian box office in four days. Its gross total stands at Rs 63.76 crore in the domestic market. The day-wise breakup of its nett collection is Rs 10.24 crore on Fri, Rs 10.06 crore on Sat, Rs 8.26 crore on Sun and Rs 17.35 crore on Mon.
The Ajay Devgn-directed action thriller film has made an average collection in the US, Canada, UK, Australia, New Zealand and Malaysia. Shivaay has collected approximately Rs 3.07 crore at these international box office centres in its opening weekend. The makers are yet to release its collection in the UAE and other foreign markets. The movie is estimated to have grossed over Rs 3 crore in these countries.
The makers are yet to release its fourth day collection in the interntional markets. If those figures are included, the total collection of Shivaay would cross Rs 70 crore mark at the worldwide box office in four days. Here is the country-wise gross collection of the movie. These are estimated numbers and vary from the actual figures released by its producers/distributors.
| | | | | |
| --- | --- | --- | --- | --- |
| Country | Screen | Foreign currency | Gross in Rs | Period |
| India | 2300 | NA | Rs 63.76 crore | 4 days |
| US | 123 | $2,55,737 | Rs 1.71 crore | 3 days |
| Canada | 20 | US$76,686 | Rs 51.22 lakh | 3 days |
| UK | 58 | £37,545 | Rs 30.54 lakh | 3 days |
| Australia | 34 | Au$83,134 | Rs 42.21 lakh | 3 days |
| New Zealand | 11 | NZ$23,390 | Rs 11.17 lakh | 3 days |
| Malaysia | 8 | MYR9,870 | Rs 1.57 lakh | 3 days |
| Others | NA | NA | Rs 3+ crore | 3 days |
| Total | ---- | ----- | Rs 70.07 crore | ---- |