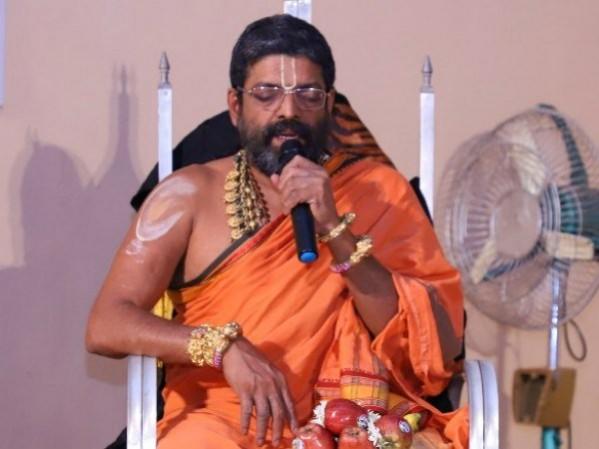 While the sudden death of Udupi Shiroor Mutt pontiff Sri Lakshmivara Teertha is already creating ripples in Karnataka, a senior seer has added to the mystery with his comment. The pontiff died on Thursday, July 19, after being admitted to a private hospital over suspected food poisoning. He was 55.
Speaking of Teertha's death, senior pontiff Pejawar Swamiji said that he couldn't have been poisoned by the seers of other mutts. He added that many people knew that the deceased pontiff drank excessively and that might have damaged his kidney and liver.
"It is not possible for people from other mutts to offer him food. In case he was poisoned, it could be from someone within the Shiroor mutt itself. Many of the seers had not maintained contact with Shiroor seer," the Bangalore Mirror quoted Pejawar Seer as saying.
"I was not in town for the past few days, so I do not know whether Lakshmivara Theertha Swami died because of poisoning or food poisoning. However, we had information that he was in the habit of excessive drinking, which might have damaged his kidney and liver," he added.
Not just his drinking habits, the seer also spoke about the 55-year-old pontiff's attraction to women. "There are rumours that he had a fight with a woman. There have been instances when students have complained that the seer stinks, which was not how a seer should lead his life. I had warned him on several occasions," Pejawar Seer said.
Pejawar Seer also said that several other mutts had severed ties with Teertha as he wasn't leading a life of a seer and even had a son. "I had all the love for him, but the Shiroor seer did not follow the norms and was behaving against his own conscience. We appreciate all the good work he has taken up, especially mingling with people of all communities," he explained.
The death of the seer has been shrouded in mystery after several people have claimed that he was murdered. Reports said that he had attended a Vanamahotsava programme on July 16, when he had consumed food with some students.
He was admitted to the KMC hospital after he complained of excessive vomiting, but murder suspicions were heightened after Teertha's lawyer Ravi Kiran said that the seer had recently spoken to him about threats to his life.
After demands of a murder probe, Udupi Superintendent of Police Laxman Nimbargi said: "We are investigating the case from every angle. The post-mortem report is awaited. We have sealed the room and the kitchen." The state government has also ordered a high-level probe.