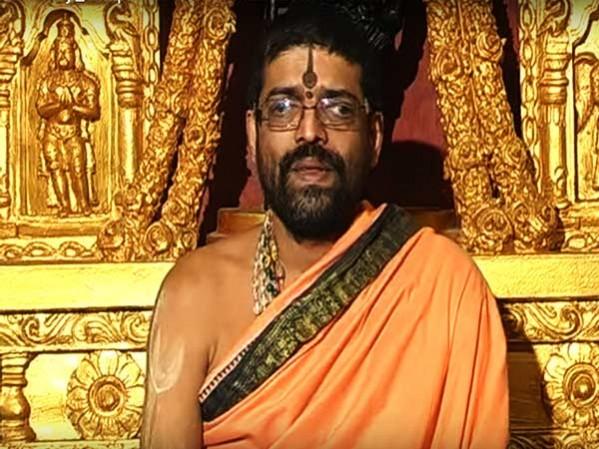 Sri Lakshmivara Theertha Swamiji of Udupi's Shiroor Mutt passed away in the wee hours of Thursday, July 19 at the age of 54. He breathed his last at a private hospital in the Temple Town.
Reports say that he had attended a Vanamahotsava programme, planting saplings in 15 acres of mutt premises at Shiroor village, on Monday, July 16, and had consumed food with the students.
Later, he was suspected to have suffered food poisoning and excessive vomiting before he was taken to the KMC hospital. "He is out of danger. According to the doctors treating him, he is stable. But he will be under observation for the next 48 hours," The Hindu had quoted P Latavya Acharya, Dewan of Shiroor Mutt, as saying.
Sri Lakshmivara Theertha was kept in the intensive care unit of the KMC hospital and by evening his condition was said to be critical, as per TV media.
The seer had reportedly fallen ill a couple of times over the last few months. He had high blood pressure and undergone a surgery over thyroid issues.
He was born in 1964 and took 'deeksha' at the age of 7. He ascended the Paryaya peeta thrice - 1978-80, 1994-96 and 2010-11.
Condolences are pouring in over his death. Shobha Karandlage, the MP from Udupi-Chikkamagaluru constituency, has tweeted, "Shocked & sad to hear about the demise of Shiroor Mutt seer Lakshmivara Tirtha Swami, a spiritual teacher who spent his whole life for giving the message of peace and humanity. My heartfelt condolences...[sic]"
Controversies
A controversy broke when six of the eight mutts refused to handover the idols of presiding deities of Shirror Mutt until Sri Lakshmivara Theertha Swamiji appoints his successor. He had filed a criminal case against the pontiffs of other mutts.
"I will not go to their meeting. The idols of presiding deities were taken from this door here when I was ill. They should return it. The blessings of Lord Mukhyaprana (Hanuman) are with me," The Hindu quoted him as saying earlier.
He had caused embarrassment for the mutts after he had filed nomination for the assembly election as an independent candidate before he withdrew his nomination.
In March, a controversial video of him making derogatory comments against other seers had surfaced on media and he had described it to be a "fake clip.
Shiroor Mutt is one among the eight mutts established by Madhvacharya in Udupi.