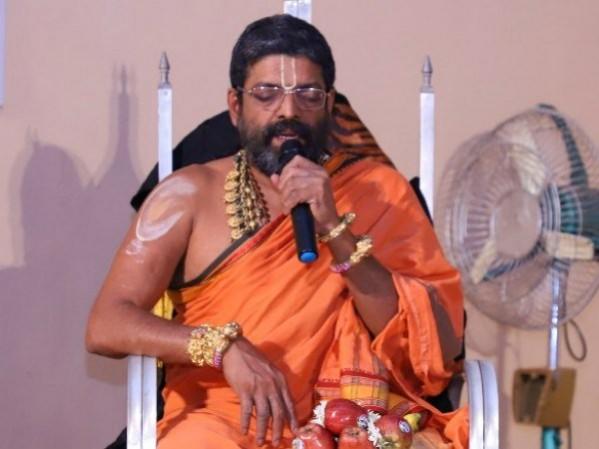 Call him a rebel star among conservative Astha Mutts of Udupi or a controversial seer, Sri Lakshmivara Theertha Swamiji, who died under mysterious circumstances on Thursday, July 19, was different from the lot. He was outspoken and rarely worried about the consequences of his public behaviour.
He was born on June 8, 1964 to Vittal Acharya and Kusuma at Madamakki, Hebri taluk of Udupi district. His original name was Harish Acharya and he was later named as Sri Lakshmivara Teertha after he received 'sanyasa' in 1971 when his brother Laxmimanojna Teertha renounced the holy seat.
He became the 30th seer of Shiroor Mutt despite four seers from the Ashta mutts raising objections over his elevation. He had his first Paryaya in 1978 and renovated the mukyamantapa at the entrance of Sri Krishna Mutt in Udupi.
He was controversy's favourite child. His lifestyle and thoughts were modern in nature and often did not go well with the seers and the conservatives Hindus. Be it his fascination for riding bikes and cars at high speed or his love for drumming, his acts were never accepted by a majority of the ashta mutts.
Sri Lakshmivara Theertha Seer did not possess profound knowledge like their counterparts from other mutts, but his 'Alanakaras' (decorations) to Lord Krishna were a treat to eyes.
It has to be noted that Sri Lakshmivara Theertha Swamiji was a good swimmer and a drummer apart from having interest in karate and in collecting antiques.
Above all, he was genuinely described as a kind-hearted person, who did his best to help the people in need.
Controversies
The Seer was not in good terms with seven of the eight mutts over one or the other issues since decades. He had rubbed many the wrong way when he had supported the ascension of Sri Sugunendra Tirtha Swamiji to the Paryaya Peetha in 2008 for crossing the seas ("Saagarolanga") which was against the norms of the Udupi mutts.
A few months ago, a major controversy broke out when a shocking clip was aired on a new channel in which Shiroor Seer had allegedly claimed that he had a child and Swamijis of other Ashta Mutts too fathered "children" in contravention of rules of the Mutts. The video had also shown him telling that 'murders' had taken place in the premises of Sri Krishna Temple.
Later, Shiroor Seer clarified that the clip was fake and someone had mimicked his voice.
To the dismay of other seers, Sri Lakshmivara Theertha Swamiji hit the headlines again when he filed nomination to the recently-held assembly election from Udupi constituency after BJP did not give him a ticket to contest the election.
Later, he withdrew his nominations but extended his support to Narendra Modi.
All hell broke loose after the Vidyadheesha Theertha Seer, the chief of Palimar Mutt, refused to hand over the idols of presiding deities of Shiroor Mutt until he named his successor as he had claimed to have fathered children.
Sri Lakshmivara Theertha Swamiji Seer took a legal route to reclaim the presiding deities of Shiroor Mutt by getting caveat from a local court. He had also planned to file a criminal case against these six seers, barring Puttige Mutt seer.
Before the issues between him and other mutts were sorted out, he died allegedly due to food poisoning. Like his life, his death has also led to a controversy.