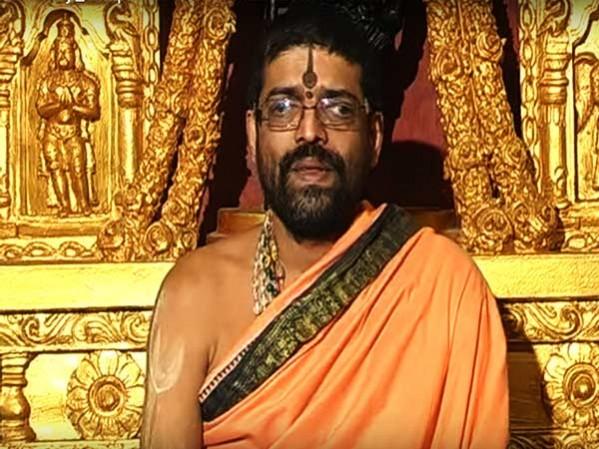 A mystery has shrouded the death of Sri Lakshmivara Theertha Swamiji of Udupi's Shiroor Mutt, who passed away on Thursday, July 19, at the age of 55. His followers have now started demanding a probe into the death alleging a foul play after poisonous content was found in his body.
The initial reports had claimed that he was admitted to Kasturba Hospital in Manipal over food poisoning, but the press release from the hospital has raised suspicion about poisoning. "There is suspicion of poisoning and toxicological samples have been sent. However, his condition continued to deteriorate rapidly in spite of the best efforts of the medical team," it read.
Dr Avinash Shetty, the Medical Superintendent of the hospital, has said that Seer's condition was critical with gastrointestinal bleeding and low blood pressure when he was taken to the hospital. "He was immediately rushed to ICU and was put on a mechanical breather and dialysis was also started," The Times of India quoted him as saying.
Lakshmivara seer's lawyer Ravi Kiran has revealed about Shiroor Mutt seer mentioning about threats to his life during their last meeting. The advocate and the Seer's followers have now demanded a thorough investigation of the case.
The issue between Sri Lakshmivara Theertha seer and others seers of Ashta mutts started after the Vidyadheesha Theertha Seer, the chief of Palimar Mutt, refused to hand over the idols of presiding deities of Shiroor Mutt until he names his successor.
The other mutts had supported the stand taken by Palimar Mutt.
Shiroor Seer had given the deities to pontiff of Palimar Mutt when he had health issues as he was unable to perform 'poojas'. Sri Lakshmivara Theertha had filed a criminal case against the pontiff Palimar Mutt on the issue.
Sri Lakshmivara Theertha Swamiji was reportedly at loggerheads with most of the seers of the Ashta mutts. It may be recalled that a video was leaked earlier where Sri Lakshmivara Theertha Swamiji was seen making controversial allegations about all the seers of the mutts.
Meanwhile, Karnataka Chief Minister HD Kumaraswamy has said that the government will order a probe if suspicion arises.
On the other hand, Sri Vishwavallabha Theertha of Vishwavallabha Theertha of Sode mutt, who will be the in-charge of Shirur mutt affairs, will perform Shiroor Mutt's last rites in Hiriyadka as per the Hindu tradition.
Shops and establishments have been shut down in Udupi as a mark of respect to Shirur seer, while schools and colleges have been declared a holiday.