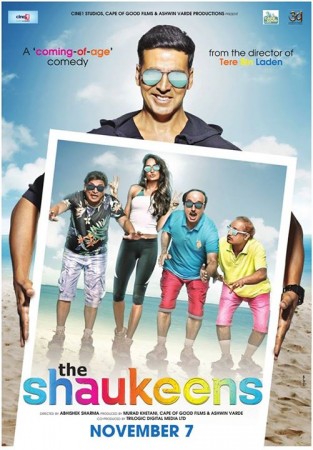 "The Shaukeens" is a remake of the 1982 cult-classic comedy film "Shaukeen". The latest film, much like the original movie, tells the story of three lecherous old men who want to spice up their old age.
While in the original film, the three lecherous men -- played by Ashok Kumar, Utpal Dutt and AK Hangal -- go to Goa for some 'fun', in the latest one, the three men -- played by Annu Kapoor, Piyush Mishra and Anupam Kher -- head to Mauritius.
Director Abhishek Sharma has managed to retain the old script, while adding a tinge of his signature humour to make the film more entertaining.
The three veteran actors weave magic with their stellar performances, but it's Akshay Kumar's guest appearance that manages to steal the thunder. Akshay plays himself in the film and easily manages to poke fun at his reel self.
Lisa Haydon, the lead actress of the film, lights up the screen with her performance, critics said.
Read the complete critics review below:
Sneha May Francis of Emirates 24/7 said: "Given the number of remakes being churned out in Bollywood, it comes as a pleasant surprise to see one-movie-old Abhishek Sharma turn a 1980-hit adult comedy into something wickedly funny without ever reducing into a sleaze fest."
"After creating the phenomenal 'Tere Bin Laden', Abhishek Sharma goes on to prove that he's got a funny bone unrivalled in Bollywood."
Manjusha Radhakrishnan of Gulf News said: "A tedious film, watch if you are a fan of Akshay Kumar and can turn a blind eye to blatant objectification of women.
"Laugh-out-loud moments are few in this film and the majority of them come from Akshay Kumar's role. As an alcoholic, bored superstar he excels. Watch this if you are a fan of Akshay Kumar and can turn a blind eye to some blatant objectification of women."
Tushar Joshi of BollywoodLife.com said: "Watch The Shaukeens if you want to see another side of Akshay Kumar and enjoy a few chuckles along the way. Also do watch out for funny cameos by Suniel Shetty, Dimple Kapadia, Abhishek Bachchan and Kareena Kapoor."
Bollywood Hungama News Network said: "On the whole, THE SHAUKEENS is a full on Bollywood entertainer that you wouldn't want to miss."
Kamaal R Khan in his review said: "#TheShaukeens is really good film. Akshay Kumar has done superb job in #TheShaukeen All the songs are on Akshay Kumar only. He has played here totally himself.
"I give 3* to enjoyable film #TheShaukeen"