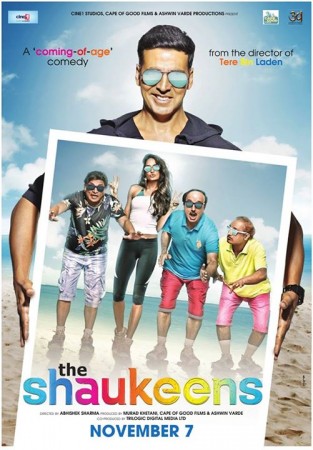 IBTimes India Rating: 1.5
Take Basu Chatterjee's 1982 classic "Shaukeen", give a good stir, pour it on the silver screen for it to spill over and smother the audience with hardly-there humour.
Coming from the director of "Tere Bin Laden", a side-splitting satire on America's fight against terror and its consequences, "The Shaukeens" should've been the last thing to pique his interest.
Abhishek Sharma tells the story about three sex-starved middle-aged Delhi-based men -- Lali (Anupam Kher), KD (Annu Kapoor) and Pinky (Piyush Mishra) – who are desperately in need of some action. In their quest to find some 'love', they go too far (literally) and land themselves in Mauritius.
Instead of checking in at a hotel, KD rents a house owned by Ahana (Lisa Haydon) whose sloppy character sketch allows her to obsess over only three things – Akshay Kumar, fashion designing and Facebook likes. Still interested?
When she learns of Akshay's film being shot in Mauritius, Ahana says she would do anything to meet the star. The oldies pick up the wrong clue and hence take turns to arrange a meeting between the two. In a nutshell, this is what the film holds for you.
Kher, Kapoor and Mishra excel as the 'tharki buddhas' (pervert oldies). They make your guts wrench with their tasteless intentions, but at the same time touch your heart with the honest performances. Akshay Kumar's extended cameo somewhat keeps the story together but Haydon's free-spirited Ahana comes across as extremely scripted.
The screenplay could've have been taut, had Tigmanshu Dhulia not wandered too much into the lewd alleys owned by the film's central characters. And of all the cast and crew, looks like cinematographer Amalendu Chaudhary had the best time of his life shooting the film. Zooming in and out of Haydon's perfectly toned bikini-clad body must have been a visual treat.
As a director, Sharma definitely manages a blot on the resume with this one as it fails to do justice to his inimitable sense of humour. The comedy falls flat, and the audience is left with just another half-baked attempt at remaking a cult film. But full points to him for embedding a message, which says men shouldn't commodify women.
"Alcoholic" and "Manali Trance" might be chart toppers, but Yo Yo Honey Singh's music misses the mark somewhere. The title track is a bad-tasting mish-mash and is far from foot-tapping.
To cut the long story short, what could've have been a laugh riot was reduced to a boring journey of three men indulging in unabashed objectification of women.