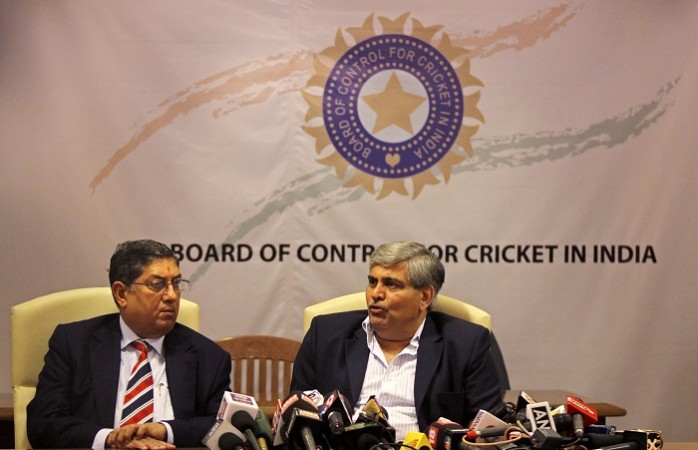 Update: Shashank Manohar, on Tuesday, also quit as International Cricket Council (ICC) chairman, besides resigning as the BCCI president. In a letter addressed to BCCI Secretary Anurag Thakur, Manohar tendered his immediate resignation from both posts and wished his colleagues all the best.
Manohar is the only BCCI-nominated chairman in the ICC panel.
"I hereby tender my resignation with immediate effect from the post of President of Board of Control for Cricket in India. I also resign with immediate effect as the representative of BCCI on the International Cricket Council, as also the Asian Cricket Council on which I was nominated by the General Body of BCCI, [sic]" said Manohar in the letter, as quoted by NDTV.
"I thank all my colleagues and the staff for their support and cooperation during my tenure. I wish all of you all the very best in taking the cause of Cricket to greater heights."
Original story: Shashank Manohar resigned as president of the Board of Control for Cricket in India (BCCI) on Tuesday. It had been reported just days ago that the 58-year-old would be quitting the Indian cricket board so he could compete for the post of the first independent chairman of the International Cricket Council (ICC).
It is also believed that the decision was taken by Manohar in the wake of the Lodha Committee recommendations, which state that no official can hold two posts at the same time in two governing bodies.
Earlier in the day, the Times of India had reported that officials from the BCCI are unhappy about the fact that Manohar had decided to quit as the Indian cricket board president.
Manohar had taken over as BCCI president only last October after the death of Jagmohan Dalmiya.
However, has he really quit the BCCI for the ICC job? That remains the biggest question. Manohar, the only BCCI-nominated chairman in the ICC, may not be even thinking about his ICC role, according to an insider.
"People think that he is quitting the BCCI job for an ICC post. That is incorrect. He doesn't know what is in store for him in the ICC and so he is not even thinking about it," a source close to the BCCI told TOI.
"If the [Lodha] panel suggestions are put to use, it will really erode the basic edifice of the game. As the head of the BCCI, he can't wait to see this disaster happening," the source added.
Meanwhile, the Indian cricket board was asked by the Supreme Court once again to strictly adhere to the Lodha Committee recommendations. "All is not well with you. Why are you so apprehensive [in following the recommendations]?" Chief Justice TS Thakur was quoted by the ANI as asking the BCCI on Tuesday.
The next hearing is scheduled for June 29.