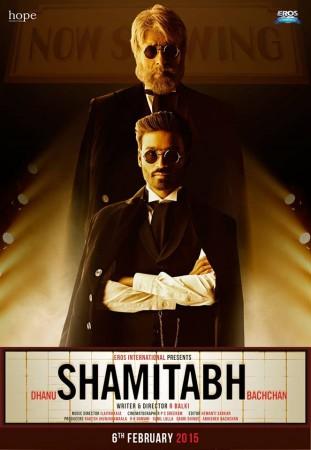 Amitabh Bachchan and Dhanush's starrer "Shamitabh" has opened to rave reviews from critics as well as from Bollywood celebrities.
The film directed by R. Balki tells the story of individuals who come together for a movie, but due to their ego problem, they drift apart. Dhanush and Big B have impressed critics with their excellent performances.
Akshara Haasan, who plays the role of an assistant director, makes her Bollywood debut with "Shamitabh". Akshara has also managed to get good reviews from critics for her performance in her debut film.
Check out the reviews below:
Hema Malini: Saw Shamitabh last night. Brilliant acting, with Amitabh outstanding in his role, Dhanush & young Akshara ably supporting him. Quite on par
Aishwarya Dhanush: SHA..MI..THAB..SHAMITABH from today !!!!!excited. .prayerful..
Sanjay Gupta: Saw SHAMITABH... Enjoyed SHAMITABH... Loved SHAMITABH!!! Don't cry for a good film... Go watch SHAMITABH.
Huma Qureshi: #Shamitabh has amazing performances by @SrBachchan @dhanushkraja #actors
Surabhi Redkar of Koimoi.com said: "Shamitabh is definitely a one-time watch for its efforts to stand out in the industry that thrives on remakes and haphazard biopics. The film is a treat for all Amitabh Bachchan as well as Dhanush fans since the film in its true sense is a mixture of their solid excellence."
Bollywood Hungama in its review said: " SHAMITABH has an out-of-the-box and unusual plot that will appeal only to a niche audience. Go for it only if you are a hardcore Bachchan fan."
Subramanian Harikumar of BollywoodLife.com said: "It is a rarity in Indian cinema to find a film that is both highly entertaining, thought provoking and clean at the same time. Backed by some powerhouse performances of Big B and Dhanush, Shamitabh is one of the finest films this year."
Manjusha Radhakrishnan of Gulf News said: "The idea behind Shamitabh is novel and no one seems to know it better than its lead actors Amitabh Bachchan and Dhanush. The two revel in playing their parts to perfection.
"Even Akshara Haasan does a commendable job of playing a feisty, ambitious assistant director who often acts as their mediator."
Sneha May Francis of Emirates 24/7 said: "Once upon a time his obsession for Bollywood's "biggest superstar" gave us the endearing 'Cheeni Kum', and later a hugely manipulative 'Paa', but none of his earlier movies quite prepares you for 'Shamitabh'. A movie that rides purely on director R Balki's excessive love for Amitabh Bachchan."