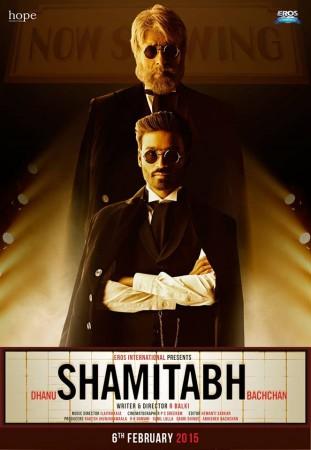 Tamil actor Dhanush, who is making his comeback to Bollywood two years after the release of "Raanjhanaa", has revealed that doing justice to Amitabh Bachchan's voice was the biggest challenge for him in "Shamitabh" and he was nervous to handle it.
"Shamitabh" features Dhanush with Amitabh Bachchan. The son-in-law of Kollywood superstar Rajinikanth is now busy promoting the film, which is slated to release in theatres across the globe on 6 February. In an interview PTI, Dhanush told that he had gone through 33 scripts before signing "Shamitabh".
"A lot of scripts came my way after "Raanjhanaa". I think I read about 33 scripts but there was nothing solid to back up my first Hindi film. I kept waiting for about eight months when R Balki called. He is like 'if you are free for a couple of hours do drop in'. After a two-hour narration I knew I was doing it," PTI quoted Dhanush as saying.
"Shamitabh" is a comedy film and it has been written and directed by R Balki aka R Balakrishnan. The makers of the movie have kept its story and details of lead characters under the wraps. With divulging details of his role in the film, Dhanush said that it was very challenging and mentally taxing.
"It would be my toughest role in my 28 films career. It was mentally very taxing. The character was not easy to play. Hopefully, I have done a convincing job and lived up to the director's expectations and people's expectations if they have any," Dhanush told PTI.
When quizzed about the biggest challenge, Dhanush pointed out Amitabh Bachchan's voice. "It was a great opportunity to learn from the best and I tried to absorb as much as possible. I was nervous only because handling the majestic voice of Amit ji is not easy. I was worried whether I will be able to carry his majestic voice in my small frame," he said.
Dhanush is also seen sharing the screen space with Kamal Haasan's daughter Akshara Haasan, who is making her acting debut with "Shamitabh". The promos of the film have created a lot of curiosity among the fans of Dhanush. With the film slated to hit the screen this Friday, it should be seen whether he will be able to live up to their expectations or not.