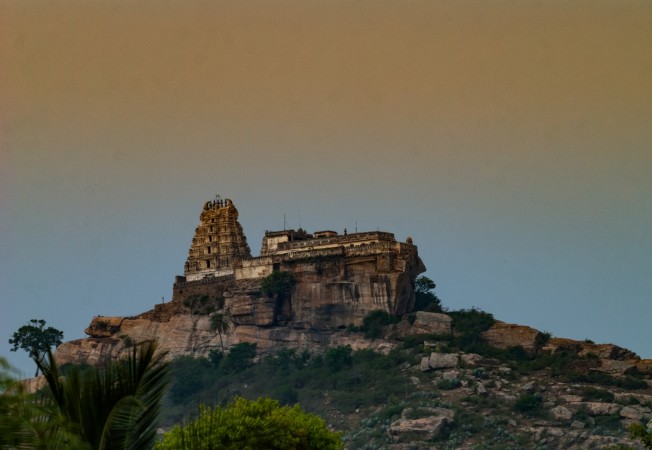 Guess the irony! In a state where former adult film star Sunny Leone gets banned from performing in a New Year event, three temple priests are accused of watching porn.
The incident took place at the Sri Yoganarasimha Swamy Temple in Karnataka's Melukote town.
A verbal spat between two priests took an ugly turn as one of them accused another of downloading pornographic videos on his phone. It all started with who is entitled to perform daily prayers in the temple.
Also read: Shocking! Karnataka school teachers gave liquor to thirsty students
According to a report by Times of India, Narayana Bhattar, a resident of Melukote and priest of the temple, filed a police complaint on December 12 accusing his co-priest Bhashyam Swamiji saying that he along with two others, assaulted him in the temple. He also blamed his co-priest for stealing his mobile phone worth Rs 16,000.
While Melukote police filed an FIR against all three accused based on his complaint. Soon after Bhashyam Swamiji along with the two others produced Bhattar's smartphone before the district administration and police officers.
They said that Bhattar's smartphone contained pornographic content and inappropriate apps. Thus, they have forwarded the case to the state endowment department for further action as the offence was non-cognisable, reports TOI.
"We have registered an FIR against Bhashyam Swamiji and others based on the complaint lodged by Narayana Bhattar. We have returned Bhattar's mobile phone to him," Mandya SP G Radhika told TOI.
"We have written a letter to the endowment department authorities over the allegation of inappropriate videos found in Bhattar's smartphone. We have left it to the endowment department to take a decision in this regard."
The incident, which started as a verbal spat soon turned into the physical, was witnessed by many devotees.
Previously Bhashyam told the paper, "During our heated argument, his mobile fell down. It was then we spotted the contents. It contained nude videos images and apps. It was a shock to visitors and devotees assembled there."
"I had been assigned to Melukote temple based on the government's order. But Narayana Bhattar did not allow me to perform pooja and argued with me for more than an hour. His allegations against me and others are completely false," he further added.