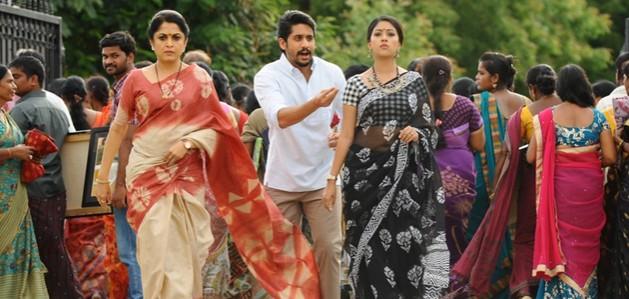 Director Maruthi Dasari's Shailaja Reddy Alludu starring Naga Chaitanya, Anu Emmanuel and Ramya Krishnan has failed impressed the film critics, who say that it is an average fare
Chaitanya and Anu are neighbours, who fall in love with each other and decide to take their relationship to next. But haughty would-be mother-in-law Shailaja complicates things for their marriage. How the lovers put up a united front to clear their roadblocks forms the rest of the movie.
The critics say that Maruthi Dasari has chosen routine and predictable story for Shailaja Reddy Alludu. The movie works quite well in the first half with good jokes and songs and a perfect interval bang, but the director fails to maintain the same tempo in the second half. The film lacks enough entertainment quotient.
Naga Chaitanya and Anu Emmanuel have done well, but Ramya Krishna's performance and Vennela Kishore and Prudhvi's comic timing steal the show. The movie has top-notch production values and music, picturisation, dialogues and action are attractions on the technical front, add the critics, who have rated it an average of 2.37 out of 5 stars.
We bring you some critics' verdict and ratings. Continue to see them in Shailaja Reddy Alludu review roundup:
The Indian Express Rating: 1
Shailaja Reddy Alludu would have been a complete washout if not for some energetic performances by Ramya Krishnan as Shailaja Reddy, Vennela Kishore as Chari and Murali as an egoistic millionaire. After a point, Anu is reduced to a breathing mannequin, while Chaitanya gets to utter a massive amount of speaking lines. Nearly 10 years in the industry, and still Chaitanya appears to feel awkward facing the camera. He even bungles up slow motion walks!
123Telugu Rating: 3
Sailaja Reddy Alludu is a strictly average family drama which has decent moments here and there. Lack of good entertainment and necessary emotions are basic drawbacks which take down the proceedings a bit. The film becomes watchable because of the promising star cast and Chay proves his worth as a complete actor with his performance. There is nothing new that you will see but as it is the festive season, you can give this film a shot for time pass sake and watch it with low expectations.
Great Andhra Rating: 2
Sailaja Reddy Alludu disappoints with routine and dull narration. The film does provide some laughs, but nothing to rave about.
Telugu360 Rating: 2.25
Sailaja Reddy Alludu is a below average film with commercial template story. Director Maruthi has failed in his strength element "Comedy "and narration is flat. Overall, with an average first half and below par second half, it's not up to the mark. The catchy title, Chaitu -Anu following , Ramya Krishna's craze and lack of competition in festive season etc. factors may work to some extent in favor of this film at Indian Box-office.
IndiaGlitz Rating: 3
'Shailaja Reddy Alludu' is a formula-driven story. Maruthi gets able actors and technicians on board. With some better drive and gravitas, this one would have been far better.
Telugu Cinema Rating: 3
Shailaja Reddy Alludu is an average entertainer with some fun moments especially the Vennela Kishore Prudhvi's comedy portion. With three catchy songs, the film makes an okay watch despite time-tested storyline, and regular moments.