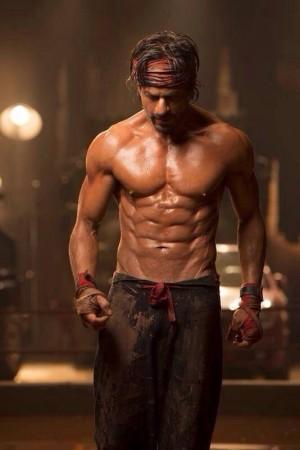 Shah Rukh Khan recently revealed his eight-pack abs for "Happy New Year", after which the social media couldn't stop talking about it.
While, some praised SRK for his hard work and ripped body, there are some who believes that his new eight-pack abs is fake. Some users on social media believe that the photo Shah Rukh revealed is 'photoshop'ped for the promotion of "Happy New Year".
But Salman Khan, who is still called SRK's rival, supported King Khan and said the abs are not fake at all.
In an interview with Gulf News, Salman had an interaction with fans who asked him several questions related to his professional and love life.
One of the users asked "What is your take on Shah Rukh's fake eight-pack." To which the actor replied saying, "It is not a fake eight-pack. He has become really ripped. In fact that picture that you see is not even a touched up picture, it's a raw picture. I am really impressed with the way he is looking right now."
"He is really fit. Really really fit, and it takes a lot of hard work to get that. I know because I do that kind of hard work and it takes a lot of hard work to get that ripped. That is not a fake thing at all, that is just a 100% genuine."
Salman's recent gesture proves that the "Karan Arjun" of Bollywood have put their past differences behind.
Recently, Salman also said that they will promote "Happy New Year" in the reality show "Bigg Boss 8."
"Yes, Happy New Year promotions will happen on Bigg Boss why will they not come? It is their decision and the PR activity has already started here," The Times of India quoted Salman as saying.
Watch Salman's complete interview below: