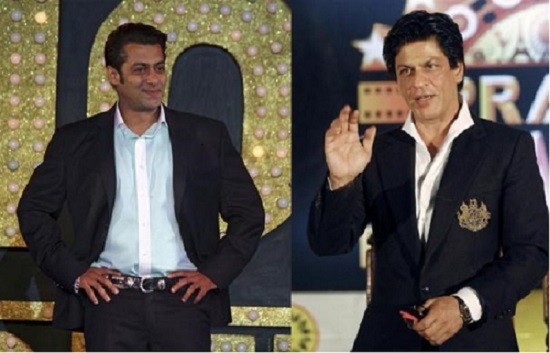 Looks like superstars Shah Rukh Khan and Salman Khan are finally ready to let go off their past differences and be cordial to each other at least.
After the much publicised hug in Baba Siddiqui's Iftar party this year, Salman has now announced that Shah Rukh will promote "Happy New Year" in the new season of his show "Bigg Boss".
"Yes, Happy New Year promotions will happen on Bigg Boss why will they not come? It is their decision and the PR activity has already started here." The Times of India quoted Salman as saying during the launch event of "Bigg Boss 8".
Earlier, speculations on if Shah Rukh's "Happy New Year" releasing on 24 October, will be promoted in Salman's popular controversial show "Bigg Boss 8", which is set to air on 21 September, were rife.
But with the recent announcement, the "Kick" actor seems to have hinted that all is well between the two.
Moreover, the superstar mentioned that he would love to have the entire cast of "Happy New Year" on the sets of "Big Boss 8".
This is not the first time Salman has shown his fondness towards the "Chennai Express" actor and his film. A few days back, the "Kick" star had shown his support and praised the trailer of "Happy New Year" on his Twitter handle.
"Just saw happy new year ka promo. Its kick ass," the "Dabangg" star had tweeted.
Meanwhile, Aamir Khan who bared it all with just a transistor covering his front on the poster of his upcoming alien film, "P.K.", had recently challenged his good friend Salman to shed his clothes in the reality show in order to promote his film, which is releasing on 18 December. Salman responding to Aamir's challenge cracked a joke about it and said: "This time I will say PK. Aamir has lost his transmitter and now is roaming around with an i-pod."
With both Shah Rukh and Aamir's film set to release soon, it would be interesting to see them sharing screen space with Salman on his much watched TV show, "Bigg Boss."