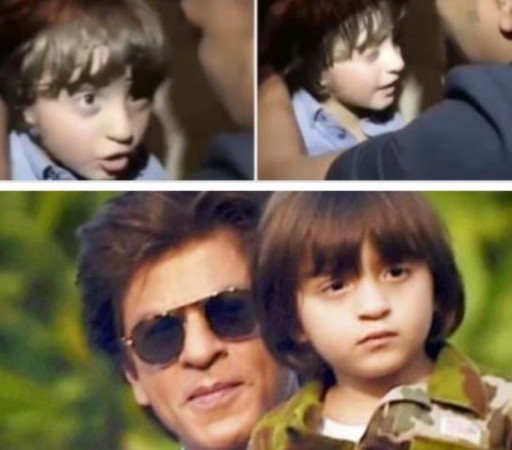 Staying constantly under media highlight and paparazzi can get tiresome even for celebrity kids. And Shah Rukh Khan's youngest child, little AbRam, has proved it right. After attending Abhishek Bachchan and Aishwarya Rai Bachchan's daughter Aaradhya's birthday party, AbRam gave his mindful to the paparazzi by shouting 'no pictures'.
At 5, it appears that AbRam has had enough of this paparazzi and media glare. A security guard escorted little Khan out of the venue by holding him in his arms, trying to shield him from the constant buzz and click. However, shutterbugs kept clicking the little one until he left the venue.
Probably a bit tired and exhausted with being in the limelight, AbRam shouted, "No Pictures." However, no one respected the master Khan's request and kept clicking to his anger.
Let's take a look at the video first.
We must remind that when AbRam was born, every move, picture of his used to break the internet. And now, same is the case with Kareena Kapoor and Saif Ali Khan's child, Taimur. Taimur has become media's favourite and he doesn't seem to mind at all. In fact, Saif Ali Khan had recently revealed that being surrounded by paparazzi is the new normal for Taimur who waves, says hi and at times even aadaab to the shutterbugs.
Abhishek and Aishwarya Bachchan too have always tried to shield their child away from the media glare. But Aaradhya seems to have come to terms with the paparazzi following her everywhere. Akshay Kumar too is a protective dad when it comes to daughter Nitara. The Akshay-Twinkle duo never let cameras take pictures of their daughter from the front.
We must say that we were a bit saddened to see the media's insensitivity and not paying any heed to AbRam's visible discomfort.