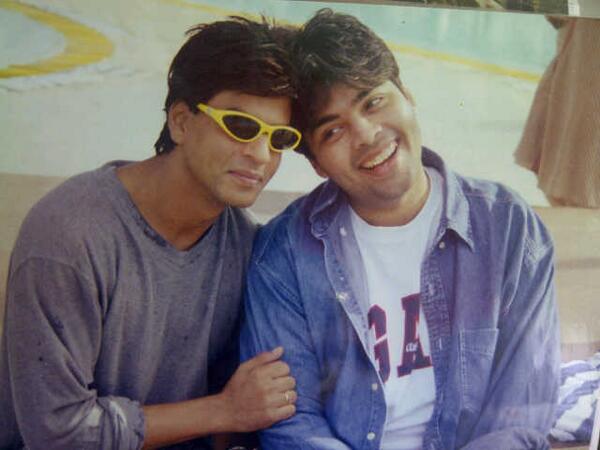 Easily one of the most-talked about friendships of B-Town, Shah Rukh Khan and Karan Johar's bonding has never left the gossip columns.
After his disappearance from the filmmaker's celebrity chat show "Koffee with Karan Season 4", and private parties, speculations were rife that the two no longer share the friendship they once boasted of.
However, going by a photo SRK shared on Twitter, looks like things have finally begun to look up for the two. "Want to share that the heat at rk studio tonight was from the warmth of the four friends who came on sabse shaana kaun. Grateful...forever!," he posted.
While rumours of them drifting apart have been on for long, a fresh incident triggered it again. According to a Bollywood Life report, SRK ignored Karan Johar at an awards ceremony. Apparently, he went up to the stage, accepted his trophy, congratulated Riteish Deshmukh and Karan for keeping the audience entertained with their humour but hugged only the "Ek Villain" actor.
Interestingly, both of them have cited tight schedules as a reason for them not catching up as often as they used to. "I'm working at most times. You get to make friends during the time you are working. I have not worked with Karan (Johar) for the last two years, so I have not spent time with him. With Farah, I'm working from the last one and a half years, but before that, for two years, I didn't spend time with her," IANS quoted him as saying.
Karan, on the other hand, is often seen praising SRK's work and the latter's contribution to his career. "I will do anything for Aditya Chopra or Shah Rukh. I judge people by how large their hearts are and their level of gratitude," Hindustan Times quoted him as saying.
Thank u again.... pic.twitter.com/ZvRqrdE74P

— Shah Rukh Khan (@iamsrk) February 25, 2015
Want to share that the heat at rk studio tonight was from the warmth of the four friends who came on sabse shaana kaun. Grateful...forever! — Shah Rukh Khan (@iamsrk) February 25, 2015