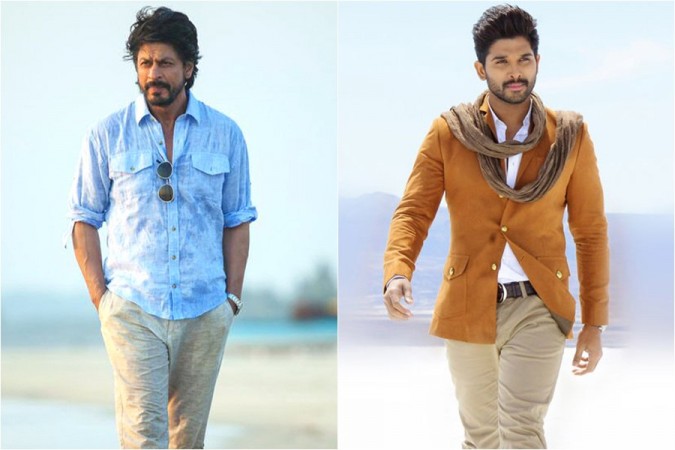 Bollywood superstar Shah Rukh Khan was recently seen going gaga over stylish star Allu Arjun. The video featuring Zero star's comment on Bunny is trending on social media today.
Allu Arjun is one of the most popular actors from the Telugu film industry. But the stylish star is a huge fan of King Khan Shah Rukh Khan. Recently, the Tollywood star watched the latter's evergreen Hindi film Dilwale Dulhania Le Jayenge (DDLJ). Talking about it on Instagram, he described the movie as the 'highest cinematic moment of his life'.
Allu Arjun had written on Instagram, "Tuje Dekha tho ye jana sanam ... ❤️ I felt the highest magic moment of my Life when I watched it in 1995... and today after 23years I watched it again , and I felt that same magic n that love in my deepest heart . Highest cinematic moment of my life then, now n Forever ❤️ #ddlj #srk #kajol #srkajol #yrf #yashchopra #tujedekhatoyejanasanam"
This weekend, Shah Rukh Khan visited Hyderabad to promote his upcoming movie Zero, which is slated to hit the screens across the globe on December 21. The Baadshah of B-Town could not stop heaping praise upon Allu Arjun, when he was asked about his comment on the latter, during his interaction with the media. Read SRK's interview on Zero
Responding to media, Shah Rukh Khan assured that he would spend some time with Allu Arjun in future. "Allu I love you and I'm going to come down 100% one day and spend time with you. You are too sweet too wonderful an extremely talented," said the Bollywood superstar.
Few days ago, Tiger Shroff, who is known for his electrifying dance moves, had said that Allu Arju is his favourite Telugu actor and he likes him very much. Shah Rukh Khan is the latest B-Town star to praise and his comment has taken Bunny fans into a tizzy. A fan tweeted, "Can't be more proud ☺️ Our KINGKHAN @iamsrk on our very own @alluarjun ☺️ #Srk #alluarjun"