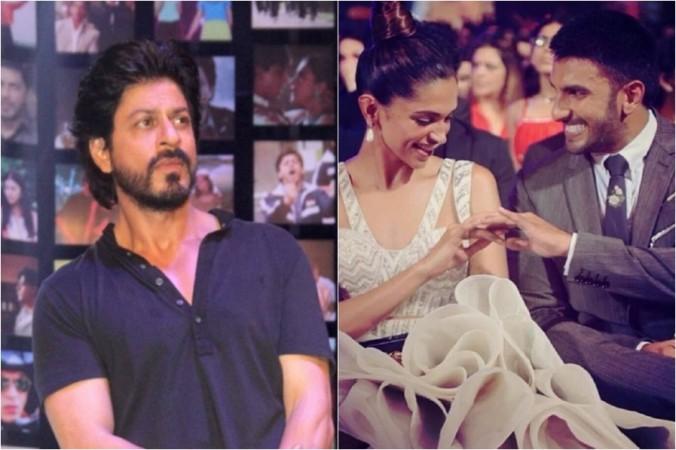 After Anushka Sharma got married to Virat Kohli in December last year, Deepika Padukone and Ranveer Singh are now going to tie the knot on November 14 and 15. Reacting to Deepika Padukone and Ranveer Singh's upcoming wedding, superstar Shah Rukh Khan has said that he gets really emotional when his co-actresses get married.
When asked what he would do in Deepika and Ranveer's wedding, the superstar told IANS, "Everyone should get married but what I will do in their wedding? 'Begani shaadi mein Abdullah deewana'. They will get married, they will have fun and they will have kids so, what I will do in that? I have been married long ago so, should I get married again and again? It doesn't look good isn't it."
After a round of laughter, Shah Rukh Khan wished Deepika and Ranveer for their future, saying: "God bless them. I wish them all the happiness. I genuinely get really happy when my co-actresses gets married because first Sridevi ji and Madhuri ji got married when I started working in films then, I have only flowered as an actor and as a star because of the love, these ladies have given me.
"After them, the second generation came along who got married and now this is the third set of ladies who are getting married. I really get emotional when they get married."
"Just the other day, I called Deepika also and asked her to be as happy as I have been in my married life. My love to Deepika and Ranveer. We will all be there celebrating. As a matter of fact, both Anushka and Deepika started their career with me so, it becomes more special to me."
Deepika and Ranveer, who have been dating for the past five years, will reportedly have a destination wedding at Lake Como in Lombardy, Italy. The ceremony will be an intimate affair with close friends and family members in attendance. The destination is quite popular among Hollywood celebrities like George Clooney, Jessica Biel and Tom Cruise.
Before taking off to the destination, a traditional ritual called Nandi Puja will take place at Deepika's residence in Bengaluru.
(With IANS Inputs)