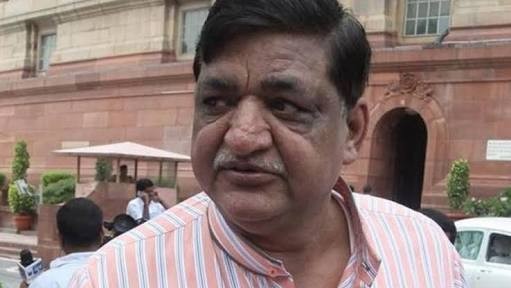 Samajwadi Party (SP) leader Naresh Agarwal received flak from many sections after his statement on Kulbhushan Jadhav — the Indian civilian sentenced to death by a Pakistan military court on charges that he is a spy who helped carry out acts of terror there — appeared to justify Pakistan's ill-treatment of him and his wife and mother, who recently visited him.
Pakistan on Monday, December 25, made quite a show of letting Kulbhushan meet his mother and wife on "humanitarian grounds." However, details like how the two women were made to change clothes and had their shoes confiscated have since trickled out, drawing widespread condemnation.
What's more, not only was Kulbhushan not allowed to speak to his kin in his mother tongue, but he was separated from them by a glass wall. Even his replies seemed coerced, as he was not apparently speaking freely.
Naresh Agarwal's comments and backlash

While the rest of India is outraged by what is being perceived as a farce perpetrated by Pakistan in the name of a "humanitarian" gesture, Agarwal — a Member of Parliament — seemed to be justifying Pakistan's actions.
The Rajya Sabha member is seen in a video as saying: "Pakistan considers Kulbhushan Jadhav a terrorist, and treated him accordingly. India does metes out the same treatment to those it considers terrorists."
Watch the video here:
#WATCH: "Agar unhone (Pakistan) #KulbhushanJadhav ko aatankwadi apne desh mein mana hai, to wo uss hisaab se vyavhaar karenge; humare desh mein bhi aatankwadiyon ke saath aisa hi vyavhaar karna chahiye, kada vyavhar karna chahiye" says Samajwadi Party leader Naresh Agarwal pic.twitter.com/owm0DJ8xGd

— ANI (@ANI) December 27, 2017
The backlash was near-instantaneous. BJP leader Subramanian Swamy said: "The parliamentary affairs minister should introduce a resolution seeking Naresh Agrawal's apology to the House and deep regret. If he refuses, we should move a motion to examine whether his conduct is not befitting that of an MP and therefore his membership should be terminated."
BJP spokesperson GVL Narasimha Rao tweeted: "Comments of Naresh Aggarwal (SP) & Mustafa (NC) are symptomatic of betrayal of national interest by the Congress-led UPA over Pakistan. They side with Pak, wine & dine with Pak leaders, abuse Indian army chief, question surgical strikes, call Kulbhushan Jadhav a terrorist. Alas!! [sic]"
The condemnation came irrespective of political affiliations. Shehzad Poonawala tweeted: "Can you expect any better from dyansty run parties? Khoon Ki Dalali to justification of Pakistan's inhuman treatment of Kulbhushan Jadhav! These parivarvadi clubs Gandhis,Abdullahs, Yadavs, etc must contest next election in Karachi or Rawalpindi!! #NareshAgarwal [sic]."
Agarwal clarifies
Facing flak from all quarters, Agarwal provided a clarification of his statement, claiming he "meant to say something else."
He was quoted by news agency ANI as saying: "We should mete out the same kind of behaviour to Pakistani spies and prisoners in India that Pakistan is meting out to Indians in its prisons."
Meant to say something else.Indians jo Pak jail mein hain unke saath vo jo vyavhaar kar rahe hain humko bhi India mein jo Pak ke jasoos ya atankawadi hain unke saath waisa hi karna chaiye.Hum unke saath khuli chhooth dekar vyavhar kar hain humein woh nahi karna chahiye-N Agrawal pic.twitter.com/BDtUPPGRfF

— ANI (@ANI) December 27, 2017
He even sent a letter to the Rajya Sabha chairperson, in which he wrote: "The ill-treatment meted out to Indian prisoners lodged in Pakistani jails is known to all. In spite of knowing this Indian government has not taken stern steps. This is a very serious matter."
Naresh Agrawal writes to Rajya Sabha Chairman about #KulbhushanJadhav, says, 'the ill-treatment meted out to Indian prisoners lodged in Pakistani jails is known to all. In spite of knowing this Indian govt has not taken stern steps, this is a very serious matter.' pic.twitter.com/2bKdneqddD

— ANI (@ANI) December 27, 2017
It remains to be seen if this is enough, or Agarwal ends up clarifying his stand further.
Serial offender?
Agarwal has been in the middle of controversies earlier as well. He equated Hindu gods with alcohol in a small poem while speaking in the Rajya Sabha in June this year.
The comments faced so much opposition — including from within the SP itself — that they had to be struck off the record in the Upper House of Parliament.
Earlier, he had said airlines putting Shiv Sena leader Ravindra Gaikwad — who had been accused of manhandling Air India personnel over some trivial issue — was "dadagiri."
He was also one of the few people to have made Prime Minister Narendra Modi smile publicly when he claimed in the Rajya Sabha in November 2016 that the law and order situation in Uttar Pradesh was the best in the country.