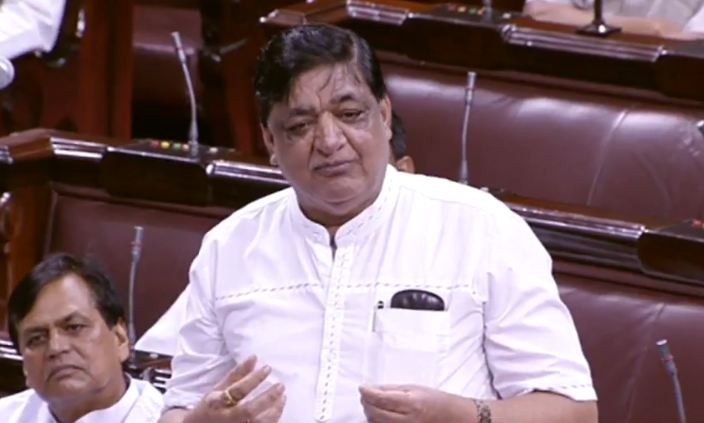 Samajwadi Party (SP) MP Naresh Agarwal landed himself in the middle of a controversy when he recited a four-line poem in the Rajya Sabha in which different types of alcohol were compared to different Hindu gods.
The small poem led to a huge ruckus in the Upper House of Parliament, with many MPs demanding an apology from the same man who had made Prime Minister Narendra Modi laugh by claiming that the law and order situation in Uttar Pradesh was the best in the country.
Agarwal faced huge backlash from various quarters for his remarks, with Finance Minister Arun Jaitley telling him that he could have been liable for prosecution had he made the remarks outside Parliament.
The offending remarks
Speaking of the time when the Ram Janmabhoomi agitation was at its peak, Agrawal said that a lot of Hindus were put in prison in order to quell the unrest.
He said he went to one such prison to meet some people and came across a small poem on the wall of one of the cells that compared Hindu gods to different kinds of alcohol.
He subsequently took back the remarks, but remained adamant that there would be no apology coming from him on the matter. "I quoted only what I read on a wall," he said.
Even other SP leaders like Ram Gopal Yadav ruled out the possibility of an apology from Agarwal for the comments.
Ruckus over remarks
Strong opposition to Agarwal's remarks came in from all quarters.
"Naresh Agarwal has insulted the whole community," said BJP leader and Union Cabinet Minister for Chemicals, Fertilisers and Parliamentary Affairs Ananth Kumar.
Finance Minister Arun Jaitley said Agarwal "would have been liable for prosecution" had he made the remarks outside Parliament.
Deputy Chairman of the Rajya Sabha PJ Kurien also weighed in on the topic, saying that the comments were derogatory in nature and hurt the sentiments of a community. Agarwal took back his comments only after Kurien condemned them.