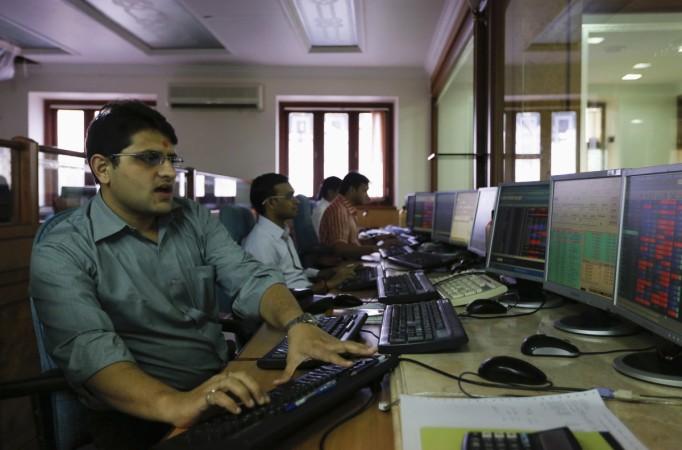 Indian stock markets opened on a positive note on Wednesday, extending the gains of Tuesday when the benchmark indices BSE Sensex and NSE Nifty rose 1.6 percent. At around 9.20 am, the 30-scrip Sensex was up 65 points and was trading at 26,278 while the broader, 50-scrip Nifty was trading with gains of about 20 points at 8,051.
Meanwhile, a Kotak Mahindra Bank manager has been arrested by the Enforcement Directorate in Delhi on charges of money laundering after demonetisation.
Realty stocks slide over possible crackdown on illegal properties
Top Sensex gainers were Wipro (up 1.29 percent at Rs 470), Adani Ports (up 0.99 percent at Rs 269) and Dr Reddy's Labs (up 0.97 percent at Rs 3,065). Other index gainers were Cipla, Axis Bank and Infosys.
Divi's Laboratories, which was in news for having received Form 483 issued by the US drug regulatory authority (FDA), rose 0.77 percent in early trade to Rs 795.
Shares of Kotak Mahindra Bank were up 0.13 percent at Rs 712.
Indian stock markets are riding a positive wave after finance minister Arun Jaitley's statement that Indian tax rates have to be "globally competitive", and the outcome of Prime Minister Narendra Modi's meeting with economists, which was organised by the government think-tank Niti Aayog on Tuesday.
The focus of the meeting was on job creation, rationalisation of taxes and increased investment in tourism, which fetches about $20 billion annually from foreign tourist arrivals alone.
Cement sector update
In a note on Wednesday, brokerage Nirmal Bang said that demand for cement is likely to remain subdued on account of demonetisation-induced slowdown in housing and infrastructure.
"We believe the weakness in demand is likely to be spread over the long run compared to the current understanding of it being a short-term phenomenon. We expect demand disruption to push down cement demand recovery by at least a year and hence capacity utilisation will be lower for a longer period than what was expected earlier," Nirmal Bang said.
Relief for aluminium producers
Aluminium manufacturers could get respite if import duty on the commodity is raised. "Mines ministry to recommend a 5 percent increase in import duty on primary aluminium products to help ease pressure on domestic producers from large scale cheap imports," Nirmal Bang said. Shares of Hindalco and National Aluminium were up 0.19 and 3.34 percent, respectively.
Bad loan woes of banks
The brokerage, citing the Reserve Bank of India's Financial Stability Report, said GNPA (gross non-performance) ratio of banks rose sharply from 5.1 percent in September 2015 to 7.6 percent in March 2016, and if the macro situation deteriorates, it may rise to 9.3 percent by March 2017.
An update by the finance ministry on November 29 2016 said the GNPAs of state-run banks stood at Rs 6,30,323 crore spanning 66.40 loan accounts.
Rupee opens lower
The Indian rupee opened at 68.10 to the US dollar on Wednesday as against its Tuesday closing of 68.07.