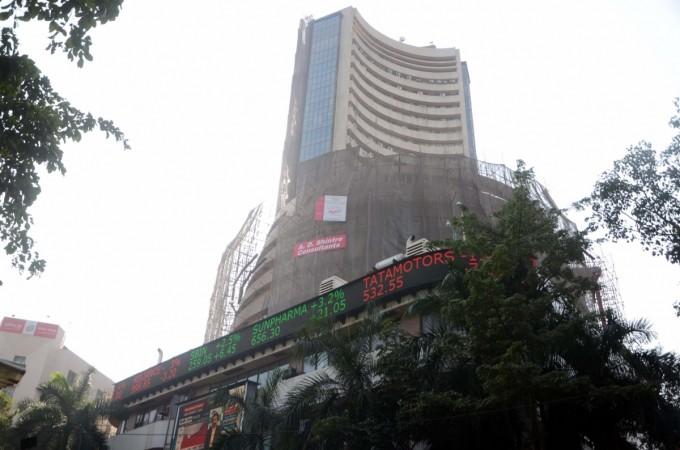 Indian stock markets bounced back sharply on Thursday taking cues from strong opening on Asian equities and overnight rally on US stock markets, reversing Wednesday's crash that was triggered over the ban on high-denomination currencies by the Narendra Modi government and uncertainty in the US presidential elections.
The BSE Sensex was trading 365 points higher at 27,617 at around 1.18 pm, after opening with a gain of over 350 points, while the NSE Nifty was up 125 points at 8,556.
Top Sensex gainers were Tata Steel, State Bank of India, Cipla, Axis Bank and Coal India. Shares of gold companies such as Titan, PC Jeweller, Tribhovandas Bhimji Zaveri (TBZ) and Gitanjali Gems were trading with significant gains.
PC Jeweller was up 2.93 percent at Rs 449.50, while TBZ gained 6.60 percent at Rs 72.70, Gitanjali Gems was up 4.69 percent at Rs 68.10 and Titan was up 1 percent at Rs 361.
The Indian rupee opened at 66.49 to the US dollar.
The opening was on expected lines, according to brokerage Angel Broking.
"Indian markets are likely to open positive tracking SGX Nifty. With dust settling over the curb on black money by Govt and US election results getting over, Indian market is likely to start focusing on domestic issues," it said in its pre-markets note.
"While a win by Donald Trump was considered negative by large global institutional investors, post election results global markets have stabilised and the US markets have rather jumped up. Other global markets like Europe also closed strongly with FTSE closing up 1 percent and DAX closing 1.6 percent," it added.
Impact of demonetisation of Rs 500, Rs 1,000 notes
Some sectors such as real estate and jewellery are bound to be affected by the government's move to ban the existing Rs 500 and Rs 1,000 currency notes, even as they are being replaced by new series.
"...consumption of high-value items (jewelry, real estate) will get impacted as these have found favour as a 'store' of unaccounted income or wealth," Kotak Institutional Equities said in a note on Thursday.
"We believe small businessmen and self-employed professionals would make attempts to become a part of the formal economy over time by reporting higher income and paying full income and indirect taxes," it added.
Other sections of the society are unlikely to be affected and therefore there need not be concerns on that count, the brokerage said.
"We see limited impact on general consumption as most of the low-income, middle-income and high-income households will be largely unaffected by the demonetisation measure. The use of cash is quite high in India for low-value transactions but we note that India has not banned the use of cash for such transactions. Also, very few households will have large amounts of illicit cash."