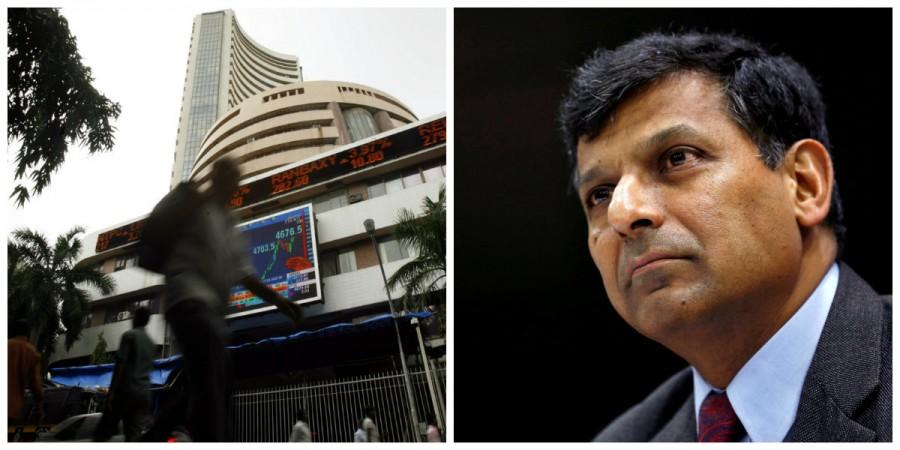 The Sensex is likely to open on a negative note on Monday, courtesy Rexit (Raghuram Rajan's exit). Rajan's decision not to seek a second term after his current tenure as RBI governor ends on September 4 is expected to impact market sentiments. The benchmark index had closed at 26,625 on Friday, up 100 points from its previous close.
The personal attacks on him by BJP Rajya Sabha member Subramanian Swamy left little doubt in the minds of many analysts of a possible second term for the Rajan. In a sense, Rexit was almost a foregone conclusion.
The development has come a couple of days ahead of another dampener called Brexit and could impact bank stocks since Rajan's efforts to clean up bank balance sheets was seen as a positive by many bankers and analysts.
Rajan himself had listed loan recoveries as an important achievement in his farewell letter addressed to RBI employees.
"...creating a whole set of new structures to allow banks to recover payments from failing projects, and forcing timely bank recognition of their unacknowledged bad debts and provisioning under the Asset Quality Review (AQR)," he said in his letter.
His likely exit as the central bank chief was seen as a bad signal to foreign investors, with one economist even going to the extent of saying a few weeks ago that the flight of capital could be even $100 billion.
The war on non-performing assets, so to speak, could take a beating with his exit, according to a senior journalist.
One way of looking at #RaghuramRajan story: War on crony capitalism is over. Full normalcy restored. Capitalism lost, cronies won.

— Shekhar Gupta (@ShekharGupta) June 18, 2016
It is pertinent here that the amount owed by wilful defaulters to state-run Indian commercial banks more than doubled between December 2012 and December 2015. The amount stood at Rs. 66,190 crore (about $10 billion) as on Dec. 31, 2015, Jayant Sinha, minister of state for finance, informed the Rajya Sabha last month.
Some of the bank stocks that would be in focus are State Bank of India, ICICI Bank, PNB, Bank of Baroda and a slew of mid-cap private and public sector banks.
The sense of stability he lent to the economy would be remembered, according to Biocon CMD Kiran Mazumdar Shaw.
RBI Gov Raghuram Rajan Not Seeking Second Term - Academic gain. RBI loss He leaves a legacy of economic stability https://t.co/K1eXosOosg

— Kiran Mazumdar Shaw (@kiranshaw) June 18, 2016
Another veteran industrialist, Harsh Goenka, said his exit is India's loss.
Globally acknowledged. Inflation warrior. Economic guru. Independent mind. Bank surgeon. #RaghuramRajan leaving is a loss to the nation.

— Harsh Goenka (@hvgoenka) June 18, 2016