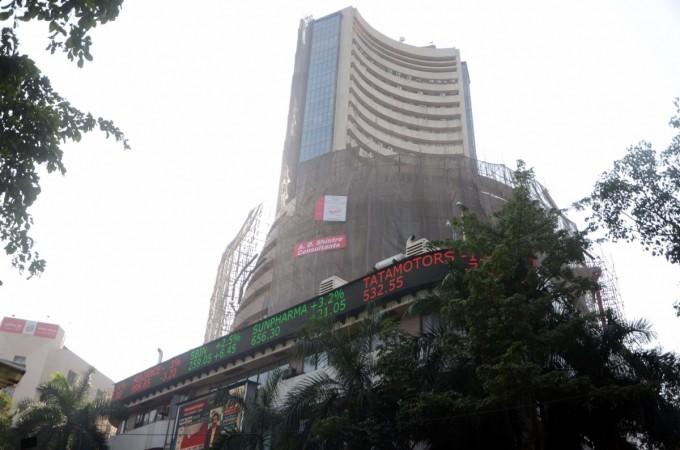 The Standard & Poors BSE Sensex climbed 0.2 percent to 31,335 while the NSE Nifty rose 0.2 percent to 9,688 on Thursday on the back of what it perceived as the "dovish" stance of the Reserve Bank of India in its post-monetary policy commentary announced on Wednesday.
The reduction of the SLR (Statutory Liquidity Ratio) -- the amount of money banks need to invest in government securities — by 50 basis points also boosted sentiment especially in shares of state-owned lenders with the Nifty PSU Bank Index gaining 1.2 per cent.
Indian equity benchmarks gained led by metal stocks after broking firm CLSA upgraded its outlook on the sector while technology shares declined.
The markets briefly fell in mid-morning trade at around 11 am before climbing back a little. At 11.54 am, the S&P BSE Sensex was trading at 31,240.97, down 30.31 points, while NSE Nifty traded at 9,656.10, down 7.80 points. A total of 59 stocks registered a fresh 52-week high in trade on Thursday, while 23 stocks touched a new 52-week low on the NSE.
The National Stock Exchange NSE soared to a lifetime high on metal and bank stocks, though IT stocks led by TCS clipped the gains in no time.
Shares of Tata Steel on BSE saw a 3.8 percent intra-day uptick to Rs 509.5, the highest since May 26 this year, after research firm CLSA raised its price target on the stock to Rs 710 from Rs 570, while reiterating a buy rating.
A total of 59 stocks registered a fresh 52-week high in early trade on Thursday, while 23 stocks touched a new 52-week low on the NSE.
The monetary policy committee had on Wednesday left the policy repo rate at a 6-and-a-half year low of 6.25 per cent and the reverse repo rate at 6.0 percent. It cut consumer inflation expectations to 2.0-3.5 per cent in the first half (April-September) of fiscal 2018 from 4.5 percent, and to 3.5-4.5 percent in the second half (October-March) of fiscal 2018 from 5 per cent.
This followed the RBI maintaining a "neutral" policy stance and lowering its inflation projections as it delivered a less hawkish policy statement on Wednesday, leaving key interest rates unchanged.
Only one of the six MPC members, Ravindra Dholakia, voted against leaving interest rates unchanged, the first split in the five meetings since the panel was formed last September.
Maintaining a "neutral" policy stance, the RBI had said on Wednesday that it would need more evidence that the price trend seen in April, when inflation dropped to a more-than-five-year low of 2.99 percent would endure.
But in a concession to the need to revive private investment, the RBI made it easier for India's stressed banks to lend, cutting their SLR by 50 basis points to 20 percent of total deposits from June 24.
The bank's cautious stance on lowering interest rates further in line with the Finance Ministry's expectations has led to some analysts seeing a possibility of an interest rate reduction later this year.
"Last month's headline inflation print and revised growth estimates have certainly raised difficult policy questions," Viral Acharya, the deputy governor in charge of monetary policy, had told a news conference in Mumbai on Wednesday.
"We will watch carefully next few months the incoming data on inflation as well as the indicators of real economic activity."
However, Reuters quoted Chief Economic Adviser, Arvind Subramanian, strongly arguing for rate cuts, telling reporters after the RBI decision that "seldom have economic conditions and outlook" made so clear the need for "substantial monetary policy easing".