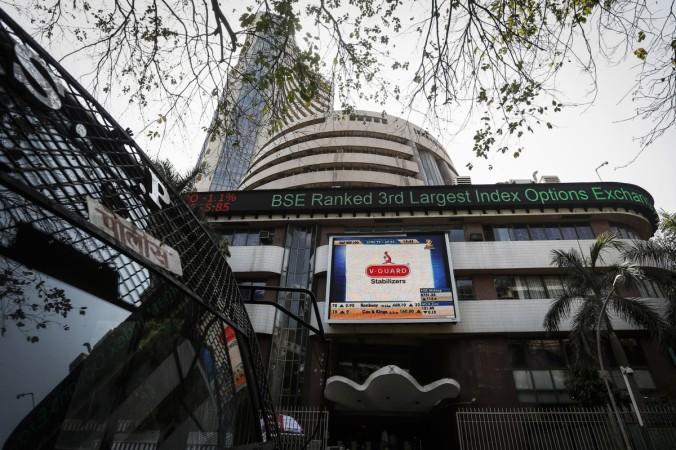 Indian stock markets slumped by over 2 percent Tuesday after the Reserve Bank of India (RBI) announced its decision to cut repo rate (key policy rate, or interest rate) by 25 basis points. The markets had expected the apex bank to cut the rate by about 50 basis points.
The S&P BSE Sensex lost more than 560 points at the closing hours, but marginally trimmed losses to end at 24,883.59, down 516.06 points, or 2.03 percent. The NSE Nifty settled at 7,603.20, a loss of 155.60 points, or 2.01 percent.
At its first bi-monthly monetary policy review meeting Tuesday in the new financial year, the RBI cut repo rate from 6.75 percent to 6.50 percent, which is now the lowest in over five years.
However, even additional measures by the RBI to allay fears about cash deficit in the system -- such as announcing a Rs. 15,000 crore open market operation this week and noting that the new regime of marginal cost of funds based lending rates will improve transmission of rate cuts -- failed to lift the markets' dampened sentiments.
The markets' expectations were based on Finance Minister Arun Jaitley affirming his commitment to rein in fiscal deficit at 3.5 percent of the GDP in financial year 2016-17, retail inflation at around five percent and hopes of a better monsoon this year.
The fall on the Sensex was led by Adani Ports, which plunged by 6.23 percent. Most of the Sensex losers were bank stocks, including ICICI Bank (down 5.45 percent), State Bank of India (down 5.38 percent), Axis Bank 2.89 percent and HDFC Bank (down 1.03 percent).
The BSE Bankex plunged 591 points, or 3.21 percent, to 17,858.
Other Sensex stocks that closed in the red included Bharti Airtel, BHEL, Tata Motors, Maruti Suzuki, Tata Steel and Infosys.
Besides banks, other sectoral BSE indices that slumped included realty, auto and FMCG.
On the NSE, the Bank Nifty dropped 3.06 percent. The fall was sharp in NSE PSU Bank index that fell 5.13 percent.
The RBI retained its FY2017 growth forecast at 7.6 percent, broadly in line with the government's projection of 7 - 7.75 percent.