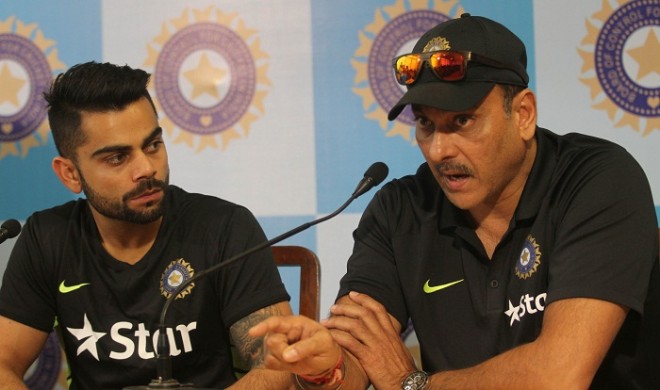 A few days ago, former Indian cricketer Rahul Dravid was said to be BCCI's ideal choice to take up the role of the permanent coach, but it has been understood now that the senior players of the team want former Team Director Ravi Shastri to be handed the role. It is under Ravi Shastri that India defeated Sri Lanka and South Africa in a Test series, and emerged as one of the best teams in coloured clothing.
The BCCI-appointed advisory committee, which includes former Indian greats Sachin Tendulkar, Sourav Ganguly and VVS Laxman, needs to find a new coach. Laxman also approached Michael Hussey last year, for the top post, but the Aussie politely declined the offer.
The decision is expected to come before the India team head over for the West Indies tour after IPL 2016.
The committee have some time in their hands, and Shastri, who is a commentator in the IPL 2016, could get the prestigious job of coaching the India team. The BCCI seems to have met some India players, who showered praise on Shastri for his role in the last year or so after taking over as the Team Director.
Shastri was handed the position after Duncan Fletcher's tenure came to an end after the conclusion of the 2015 ICC Cricket World Cup. Shastri's tenure as Team Director came to an end after India's journey in the recently concluded World T20 came to an end after losing to West Indies in the semifinal.
"We consulted the players recently on who they want to be the head of the team and many senior players were all praise for the work done by Shastri, and have said that they would be really happy if he continues in his role. A decision would be made soon," the Indian Express quoted BCCI source as saying.
"There won't be a Team Director and a full-time coach. It will be only one post, and even Ravi's contract can come up for renewal."
The India team under Shastri has become an aggressive side, playing fearless cricket around the world. It is such approach, which might prompt the BCCI to hand Shastri the coaching job. With Test captain Virat Kohli having expressed his desire to have Shastri as permanent coach last year itself, it would come to us as no surprise if the former India opener gets the job, with Dravid yet to confirm about the vacant post.