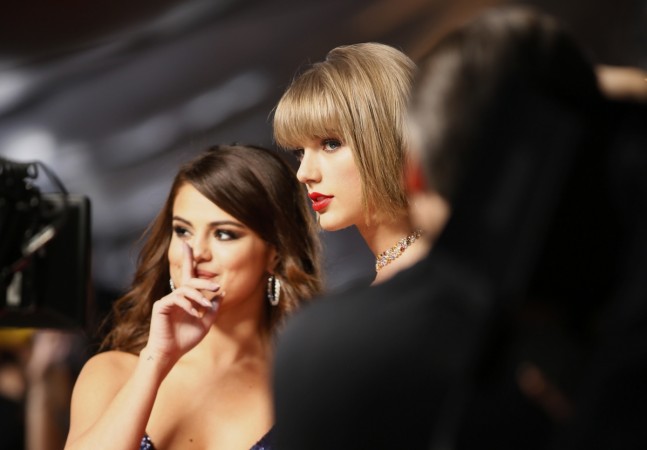 Selena Gomez did not just turn heads with her metallic off-shoulder mini dress, she also shared some existing news about her upcoming album during the premiere of Netflix show 13 Reasons Why.
The girlfriend of Canadian singer Abel Makkonen Tesfaye a.k.a The Weeknd was really existed to attend the event, which was held at the Paramount Pictures in Los Angeles, on Thursday, March 30. She donned her best looks in a strapless outfit from Oscar de la Renta's Fall 2017 ready-to-wear collection when she walked the red carpet.
It Ain't Me singer teamed the gilded ensemble with a pair of sparkling heels and accessorised it with Chikita Babe Bonbon earrings by Rebecca de Ravenel. For her tresses, she opted for a sleek updo and highlighted her nails with cobalt blue nail polish.
Also Read: Selena Gomez, The Weeknd pack on PDA in Brazil
Selena also shared the excitement of watching the television series, of which she was the executive producer, by adding a photo with the cast members to her Instagram stories.
The social media post of Justin Bieber's former girlfriend has been accompanied with the words: "Our show @13reasonswhy came out tonight and I couldn't be more overwhelmed with pride and joy. After 7 years of holding onto this book, I couldn't of picked a better time for this message to exist. Jay Asher wrote a beautifully tragic, compelling story and we were lucky to have brought it to life. Thank you to every single soul that put their heart into this passion project"
During the premiere of 13 Reasons Why, Gomez also spoke about vulnerability and her mental health issues. "I'm really big on vulnerability. I want people to know that every single life is valuable, that their voice can be heard, and that there are people who are willing to be there for them," she told ET online.
The Weeknd's girlfriend also revealed that she is really enjoying her life. "I'm getting to do things I'm passionate about with the people that I love," she said, dropping hints about her upcoming album: "I think people are going to be a little surprised, I'm excited for what's coming."