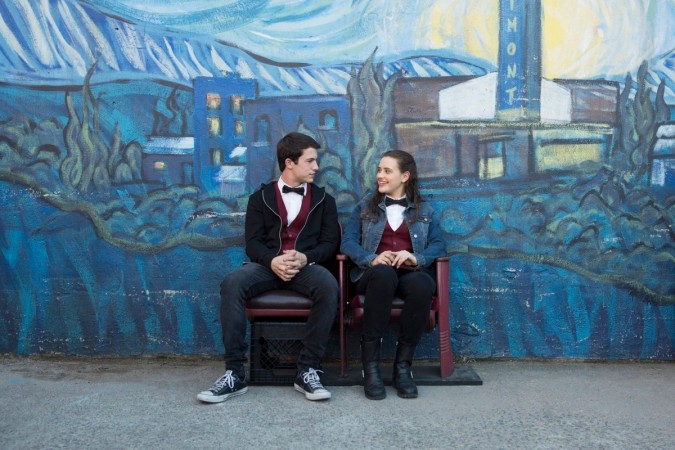 Netflix's new original series 13 Reasons Why is going to premiere on the streaming website on Friday, March 31. Based on a young adult novel, the series depicts the suicide case of a teenage girl.
And the reason for the suicide? That's the mystery, which will unfold slowly over 13 episodes. Each episode will be an hour long.
13 Reasons Why revolves around Hannah Baker (Katherine Langford), a high school junior, who commits suicide. Her act leaves everyone stunned. And Hannah leaves behind a series of vintage cassette tapes, which will eventually provide clues to why she ended her life — and who's to be blamed.
Also read: Riverdale season 1: Show creator hints that zombie might appear in the season finale
Her classmate Clay, who had a crush on her, receives a shoe box full of cassette tapes. On the tapes, Hannah explains that there are 13 reasons behind her decision to end her life. She also gives references of 13 people. With all the twists and turns, 13 Reasons Why weaves an interesting story of a teenage life that will hook viewers until the end.
The series features Dylan Minnette, Katherine Langford, Kate Walsh, Brain D'Arcy, Derek Luke, Brandon Flynn, Justin Prentice, Alisha Boe, Christian Navarro, and Tommy Dorfman.
Here is why you should watch the Netflix series:
Selena Gomez and her mother, Mandy Teefey, are among the executive producers of this series. So it is expected that every Selena fan will catch up with it.
The Netflix teen drama series is adapted from the New York Times bestseller Thirteen Reasons Why, written by Jay Asher.
Thirteen Reasons Why is directed by Oscar-winning director Tom McCarthy (Spotlight). The script is written by Tony and Pulitzer Prize-Winner Brian Yorkey.
The series definitely has the elements of addictive mystery as The New York Times has written, "If you stick with "13 Reasons Why" — and the watchful, smart performance by Mr. Minnette ("Scandal," "Awake") is one reason to make the effort — it builds up some cumulative force. In the last four episodes, two directed by Carl Franklin and two by Jessica Yu, it achieves a momentum and gravity somewhat equal to its subject matter."
People also appreciated the teen drama: "13 Reasons — which includes Selena Gomez among its executive producers — is closer to a kids' version of HBO's superb feminist mystery-melodrama Big Little Lies."
Also, talking about Netflix, the month of April is going to bring in a lot of quality content on the streaming site. Here are the five TV series which are a must-see — DC's Legends of Tomorrow, Chelsea, Bill Nye Saves the World, Girlboss, and Dear White People.
The list of TV shows and the movies is given below.
APRIL 1
A Weekend with the Family (2016)
A Nightmare on Elm Street (1984)
Across the Universe (2007)
An American Tail (1986)
An American Tail: Fievel Goes West (1991)
An American Tail: The Mystery of the Night Monster (1999)
Boy Bye (2016)
Born To Be Free (2016)
Cool Runnings (1993)
Good Witch: Season 2 (2016)
Gremlins (1984)
Only for One Night (2016)
Richard Pryor: Live & Smokin' (1971)
Scooby-Doo (2002)
Schindler's List (1993)
Something's Gotta Give (2003)
Thunderstruck (2012)
Wynonna Earp: Season 1 (2016)
Trouble with the Curve (2012)
Tropic Thunder (2008)
The Tenth Man (2016)
APRIL 2
The D Train (2015)
APRIL 4
Chewing Gum: Season 2—NETFLIX ORIGINAL
Louis C.K. 2017—NETFLIX ORIGINAL
APRIL 6
Disney's The BFG (2016)
APRIL 7
El Faro De Las Orcas—NETFLIX ORIGINAL FILM
Dawn of the Croods: Season 3—NETFLIX ORIGINAL
The Get Down: Part 2—NETFLIX ORIGINAL
Win It All—NETFLIX ORIGINAL FILM
APRIL 8
Kubo and the Two Strings (2016)
APRIL 10
Documentary Now!: Season 2 (2016)
APRIL 11
Kevin Hart: What Now? (2016)
APRIL 12
DC's Legends of Tomorrow: Season 2 (2016)
APRIL 14
Chelsea: Season 2—NETFLIX ORIGINAL
El Elegido (2017)
Mystery Science Theater 3000: The Return—NETFLIX ORIGINAL
Sandy Wexler—NETFLIX ORIGINAL FILM
APRIL 15
Disney's Homeward Bound: The Incredible Journey (1993)
Slam—NETFLIX ORIGINAL FILM
APRIL 18
Lucas Brothers: On Drugs—NETFLIX ORIGINAL
APRIL 19
A Plastic Ocean
APRIL 21
Bill Nye Saves the World: Season 1—NETFLIX ORIGINAL
Girlboss: Season 1—NETFLIX ORIGINAL
Hot Girls Wanted: Turned On: Season 1—NETFLIX ORIGINAL
Sand Castle—NETFLIX ORIGINAL FILM
Tales by Light: Season 2—NETFLIX ORIGINAL
The Mr. Peabody & Sherman Show: Season 4—NETFLIX ORIGINAL
The Prestige (2006)
Tramps—NETFLIX ORIGINAL FILM
APRIL 22
The Great British Baking Show: Masterclass: Season 1-3 (2016)
The Secret Life of Pets (2016)
APRIL 23
Liv and Maddie: Season 4 (2016)
Phantom (2013)
APRIL 24
Long Nights Short Mornings (2016)
APRIL 25
Disney's Queen of Katwe (2016)
The 101-Year-Old Man Who Skipped Out on the Bill and Disappeared—NETFLIX ORIGINAL FILM
Vir Das: Abroad Understanding—NETFLIX ORIGINAL
APRIL 26
Real Rescues: Season 6-7 (2012)
Trust (2010)
APRIL 27
Las Chicas del Cable: Season 1—NETFLIX ORIGINAL
APRIL 28
A Murder in the Park (2014)
Casting JonBenet—NETFLIX ORIGINAL
Dear White People: Season 1—NETFLIX ORIGINAL
Rodney King—NETFLIX ORIGINAL FILM
Small Crimes—NETFLIX ORIGINAL FILM
APRIL 30
Sofia the First: Season 3 (2015)