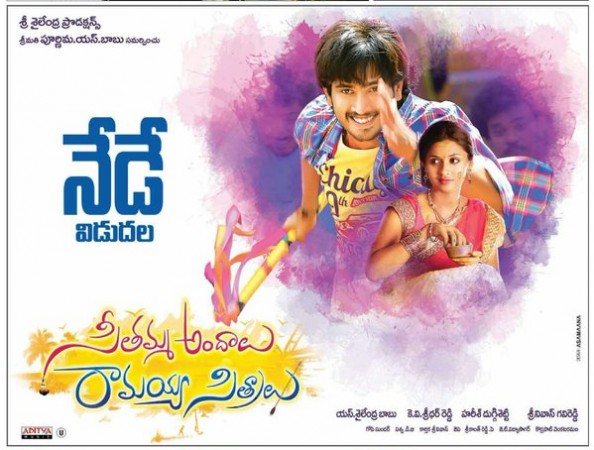 Telugu movie "Seethamma Andalu Ramayya Sitralu" (SARS), featuring Raj Tarun, Arthana and Adarsh Balakrishnan in the lead roles, has received mixed reviews from the critics and audience.
Read: Saala Khadoos review | Mastizaade review
"Seethamma Andalu Ramayya Sitraalu" is a romantic entertainer set in a village named Ramachandrapuram. Srinivas Gavireddy has written and directed the film, which has Gopi Sunder's music, Viswa's camera work and Harish's editing. The movie has the runtime of 132.58 minutes and has bagged "U" certificate from the Regional Censor Board.
The story is about happy-go-lucky boy Sriram (Raj Tarun), who falls in love with Seetha Mahalakshmi (Arthana), a beautiful girl from a rich family in the village. When her father (Raja Ravindra) learns about their love affair, he decides to marry her off to Ranji cricketer Varun (Adarsh Balakrishnan). How Sriram defeats Varun in a cricket match and marries Seetha forms the crux of the story.
The audience say "Seethamma Andalu Ramayya Sitraalu" has tried and tested story. Raj Tarun, Arthana and Adarsh Balakrishnan have delivered wonderful performances. Few comedy scenes, Gopi's music and village set up are the highlights of the film. The weak story, predictable screenplay and climax are the drawbacks of the movie.
We bring to you the audience and critics' verdict shared on Twitter and other websites. Check out 'Seethamma Andalu Ramayya Sitralu' (SARS) movie review:
In this day and age of fast paced lives, certain simple love stories which showcase subtle emotions are also clicking big time. The makers of Seetamma Andalau Ramaiyya Seetralu have tried the same pattern but have completely faltered in their narration. Except for Raj Tharun's sincere performance and some comedy by Shakalaka Shankar, this film has nothing much interesting going its way and ends up as just a below average affair.
Seethamma Andalu Ramayya Sitraalu is neither a romantic nor an entertaining teenage film. The first half of the film touches decent humour in parts and the second half conks out with some predictable twists, stale melodrama and a dragged end. Debutant actress Arthana and Music by Gopi Sunder are the only sign of relief for the audience in the theatre. As it turns out to be, Seethamma Andalu Ramayya Sitraalu (Sars) has virtually nothing that we haven't seen on screen before. The same old situations, romance, comedy and even the game, everything on the same formulaic lines. No wonder, this romance drama definitely lacks fuzz and fails to make muchimpression by the end.
Seethamma Andaalu Raamayya Sitralu is a boring love story with few occasional gags, songs and all the commercial drama. Neither Seethamma Andalu nor Ramayya Sitralu could leave us impressed.
Tollywood Reviews ‏@kalyanathidhi
So-So first half, neither boring nor interesting. #SeethammaAndaluRamayyaSitralu Silly concept and bad execution of the second half. Movie highly inspired from Kabaddi Kabaddi movie... #SeethammaAndaluRamayyaSitralu
Surya Teja ‏@Surya91610
#SeethammaAndaluRamayyaSitralu Very Poor Execution. Disaster. First Flop for Raj tharun. #rajtharun
Rj Shiv radio city ‏@rjshiv_a3
#SeethammaAndaluRamayyaSitralu it seems to be Kabaddi kabaddi reloaded with cricket. Not upto the mark.
Manikick Reviews ‏@manikick
Two telugu movies came to my mind After seeing this #SeethammaAndaluRamayyaSitralu movie. 1. ManaSichiChoodu 2. Kabaddi Kabaddi