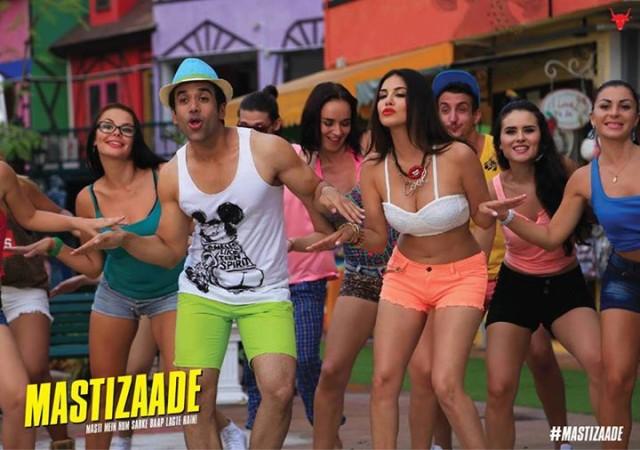 Director Milap Zaveri's Bollywood movie "Mastizaade", featuring Sunny Leone, Tusshar Kapoor and Vir Das in the lead roles, has garnered mixed reviews from the audience.
"Mastizaade" is a sex comedy, which has been written by Mushtaq Sheikh and Milap Zaveri. Pritish Nandy and Rangita Pritish Nandy have produced the movie under their home banner PNC Productions. While Meet Bros Anjjan, Amaal Mallik and Anand Raj Anand have scored the music for the songs, Sanjoy Chowdhury composed the background score. The film has Sanjay F Gupta's cinematography.
The movie is about two goofy guys, who fall in love with two identical women with different personalities. Sunny Kele (Tusshar Kapoor) and Aditya Chothia (Vir Das) are the two men who fall in love with twin sisters Laila Lele and Lily Lele (Sunny Leone). Lily is engaged to another man, while Laila likes Sunny, but refuses to express it to him. What happens next forms the crux of the story.
Sunny Leone has played a double role in "Mastizaade" and she has done justice to both. Tusshar Kapoor and Vir Das have also delivered good performances. The audiences say Sunny Leone's skin show and Vir Das' comic timing are two big highlights of the movie. But the lame sex jokes and dragging narration are the big drawbacks of the movie.
Here is the live update of 'Mastizaade' movie review by audience:
Shiva Satyam ‏@AsliShiva
#Mastizaade is fully a crap film, none of the Department have work in this film.No story,no comedy, nothing it's only waste of time & money. #Mastizaade has fail to entertain us.it's totally boring & none of the actors specially @SunnyLeone @TusshKapoor @thevirdas performed well . Overall #Mastizaade is a dull, boring & crap film.It will not attract any section of people & It is going to be sure shot flop.My Ratings 1*
Ayesha ‏@ayesha_zaveri
Laughed my guts out!! Toooo funny! @SunnyLeone is gorgeous & hilarious. Fab acting by @tusshkapoor & @thevirdas. Fast paced #Mastizaade #Mastizaade @sureshnmenon is HOWLARIOUSLYYY FUNNY!! @shaadrandhawa is toooo good. Superb supporting cast makes the film even more funny @Shaadrandhawa You were a revelation!! Loved you in #mastizaade Amazingly talented
RJ ALOK ‏@OYERJALOK
#Mastizaade is all about Sunny Laila ,Lily and Aditya Only for Adults @SunnyLeone @thevirdas @TusshKapoor .. All the best @zmilap n team
~Farhat~ ‏@JuzInquisitive
Had fun watching @MastizaadeFilm tonight at the private screening with @SunnyLeone & @thevirdas thank you @zmilap for the invite #Mastizaade
SHIV SHANKAR DUTTA ‏@imshiva17
Looking forward to watched @sureshnmenon craziest performance from #Mastizaade on bigscreen. Looking forward to watched @gizelethakral with yet another sizzling and rocking performance on #Mastizaade that release tomorrow.
IBNLive Movies ‏@IBNLiveMovies
#Mastizaade : It's been half an hour and narrative is still not clear, that is, if this film has any. Highly doubtful. #Mastizaade : Only sad sexual jokes and objectification of fruits and women so far! #Mastizaade : I want to believe @zmilap played a little smart here by setting the background of an advertising agency.
AlwaysBollywood ‏@AlwaysBollywood
#Mastizaade live review .. ha.. ha..Its @SunnyLeone sisters who helps the guys to overcome from sex addiction.. @TusshKapoor is flawless... acting-wise @SunnyLeone improved a lot.. Buts its her cute face expressions which overpowers her acting The crowd is enjoying every dialogues. Though few jokes r already heard still we can enjoy it in a live big screen Not sure kis kis ka sikka hila so far.. but my cheeks are paining due to continuous laugh..Its enjoyable throughout #Mastizaade review : *** : Don't dig for a perfection, look for entertainment.. And U will be entertained.. Best comedy movie of 2016 so far
Mrs Sidhant Gupta ‏@prissha16
@SunnyLeone really loved Lily a lot...especially in saree...damn beautiful.... #Mastizaade is perfect comedy entertainer...best of yours!!
RUPESH KUMAR ‏@rupesh_k01
#Mastizaade is full of entertainment and it has taken the comedy level to another stage.only need is @Riteishd in lead.@SunnyLeone superb
Devang Dholakia ‏@devang23
#Mastizaade is a laugh riot!! @SunnyLeone as Lily Lele brings the house down!! Well done @zmilap
RJ Stutee ‏@rjstutee
It's interval&I think I have had enough!Walking out &saving myself from d torture seems like a good idea! What say ? #Mastizaade @TheQuint
Himesh ‏@himeshmankad
#Mastizaade in reality is Crappizaade. Tries too hard to be funny but ends up being an irritating, loud and disgusting comedy.