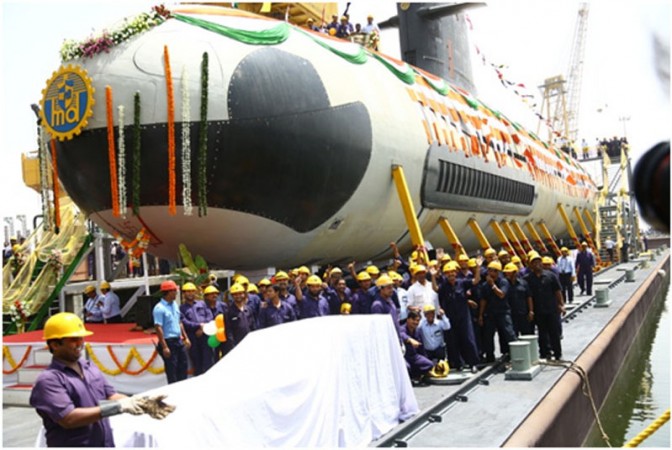 A day after data on the Scorpene-class submarines surfaced on the website of an Australian media outlet, the Indian government has clarified that the data in the documents "do not pose any security compromise as the vital parameters have been blacked out."
The Ministry of Defence has said in a statement, following the "leak" of data and the information on the website of The Australian, that: "The Indian Navy has taken up the matter with Director General of Armament of the French government, expressing concern over this incident. The Navy has requested the French government to investigate this incident with urgency and share their findings with the Indian side."
The documents leaked were from French shipbuilding company DCNS, and bore the sign "Restricted Scorpene India" on them. The leak, it is believed, could have put the Indian Navy and its local manufacturer, Mazagon Docks, on the back foot, and could prove to be an intelligence treasure trove for other nations.
Union Defence Minister Manohar Parrikar had on Wednesday asked Indian Navy chief Admiral Sunil Lanba to analyse the extent of the leak. Parrikar, had also said this was not a "100 per cent" leak.
Now that the Defence Ministry has ruled out the intelligence nightmare that this leak could have gone on to become, it said in its statement on Thursday that an internal audit of procedures to rule out any security compromise is being undertaken. The matter is being taken up with concerned foreign governments through diplomatic channels to verify the authenticity of the reports, according to the ministry.
The ministry also said that the government, as a matter of abundant precaution, is also examining the impact if the information contained in the documents claimed to be available with the Australian sources is compromised.
To that extent, a high-level probe is expected to be conducted. The detailed assessment of potential impact is being undertaken by a high-level committee constituted by the Ministry of Defence, and the Indian Navy is taking all necessary steps to mitigate any probable security compromise, the ministry has said.