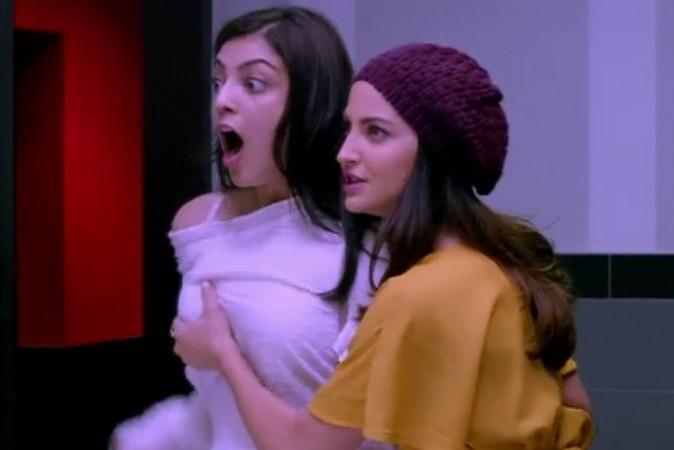 One particular scene of Kajal Aggarwal from the 'Paris Paris' teaser has been going viral on social media. The scene shows Elli Avram groping Kajal's b**bs in the movie.
Teaser of Paris Paris was released recently, which got positive response from the viewers. While a lot is being said about the movie, which is remake of Kangana Ranaut's Queen, a scene of Kajal's b**bs getting grabbed by Elli has been doing the rounds on social media.
The scene shows Elli suddenly groping Kajal, leaving her surprised and shocked. It will be interesting to see if the censor board approves this scene and it makes to the final cut of the movie.
Directed by Ramesh Aravind, Paris Paris is a Tamil movie, featuring Kajal in lead role. The film also features Elli, Vinaya Prasad, Bhargavi Narayan and Varun Shashi Rao among others.
Some time ago, Kajal was in involved in a controversy after cinematographer Chota K Naidu kissed the actress on her cheeks during a press meet of the movie Kavacham. Although Kajal apparently was not embarrassed with the act, the incident had created a lot of controversies.
Chota K Naidu had faced a lot of flak on social media, and it was even called a #MeToo movement. Later, he had opened up about the incident and had stated that the "peck was just about admiration and appreciation for the kind of work she has been doing. It's a very normal reaction".
Watch the clip of Kajal's breast being groped by Elli in Paris Paris: