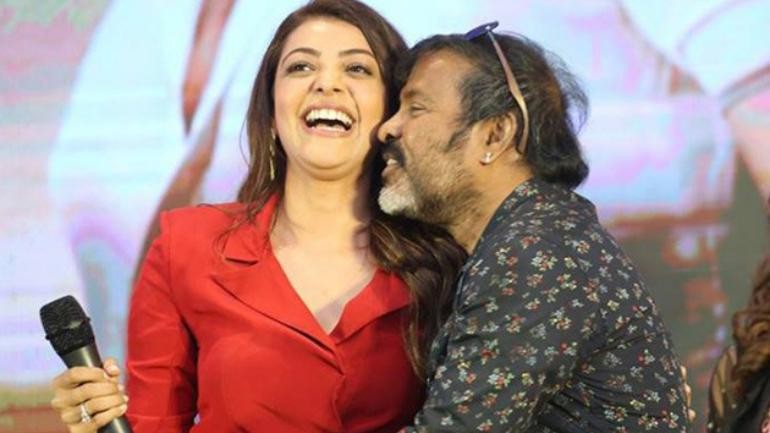 Three days after he courted a controversy, cinematographer Chota K Naidu has finally opened up on kissing actress Kajal Aggarwal on stage and brushed it off, saying that it is very 'normal reaction'.
Chota K Naidu's controversial kissing took place at the press meet of her upcoming movie Kavacham starring Bellamkonda Sai Srinivas, Kajal Aggarwal and Mehreen Pirzada. Addressing the media, Kajal said that it was great working in the movie and she thanked all her co-stars and technicians for their support.
Meanwhile, Kajal Aggarwal recalled her association with cinematographer Chota K Naidu in other films. She fondly addressed him as small (Chota) and thanked him for presenting her beautifully in Kavacham. At this moment, Chota K Naidu came closer to her, grabbed and kissed her mildly. Though it was unexpected, the actress did not show any sign of embarrassment and laughed off the situation.
But the video featuring this kissing went viral on the internet and created a lot of buzz on social media. Many people in the social media considered it as a #MeToo moment and condemned Chota K Naidu. Three days after this incident, the cinematographer broke his silence and said that Kajal Aggarwal is his favourite actress and his peck was just an admiration and appreciation for her.
"It's always been my pleasure to work with Kajal Aggarwal. She has been one of my favorite actresses after the late Soundarya. I have worked in number of films with Kajal and we know each other for several years. We share a wonderful bond and she treats me like her family," Chotta K Naidu told Deccan Chronicle.
ChoChotaNaidu added, "Yesterday's situation was really a celebrating time for all of us. She also shared some news about a wonderful project she has signed recently, so the peck was just about admiration and appreciation for the kind of great work she has been doing. It's a very normal reaction."