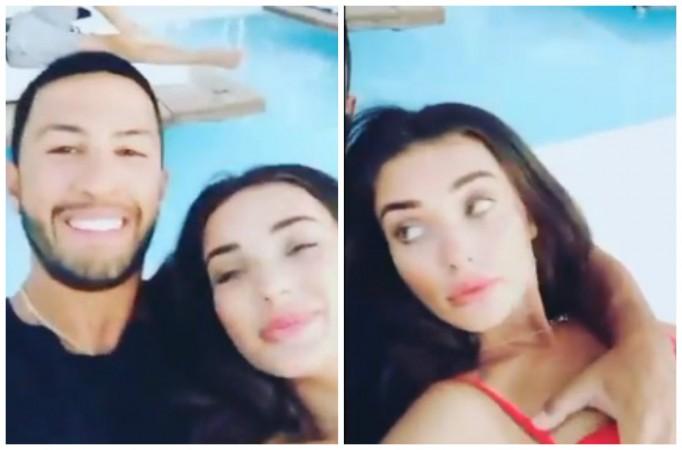 Amy Jackson often teases her fans with her sizzling hot posts on Instagram but now a video has surfaced on social media that left most of them shocked. The concerned clip shows Amy spending some very intimate moment with her UK-based boyfriend George Panayiotou.
A video is going viral on social media that shows Amy's beau squeezing her boobs while she was relaxing by his side. The multi-millionaire also recorded the moment on his phone. Amy initially looked a little surprised, but then she just gave a smile to the camera. Meanwhile, George seemed to have enjoyed as he turned the camera towards his face.
Somehow this video made its way to the internet, and it is now going viral on social media. It is not known who shared the video on social media first, but it is now being shared on both Twitter and Instagram.
While some fans are just shocked to see such a private moment between the two appearing on the internet, some others made obscene comments on the actress. We wonder if Amy Jackson and George are aware of the video reaching out in public.
Amy and George's romance reportedly started back in 2015, but the duo separated once only to get back together again. Amy made her relationship official last Valentine's Day by posting a picture of the man on Instagram with the caption reading "#HVD". Since then she often posts pictures of their romantic getaways.
Watch the video of Amy and her boyfriend's private moment that is now all over the internet:
Who is George Panayiotou?
Being the son of British business tycoon and founder of The Ability Group, Andreas Panayitou, George is a multi-millionaire. He is reportedly the head of acquisition and development department of The Ability Group.
However, George has had his own share of controversies. George and his brother Costas had made headlines in May 2014 for being charged for assaulting two police officers. He also reportedly had a number of affairs with popular models in the past, and is often labelled as playboy.