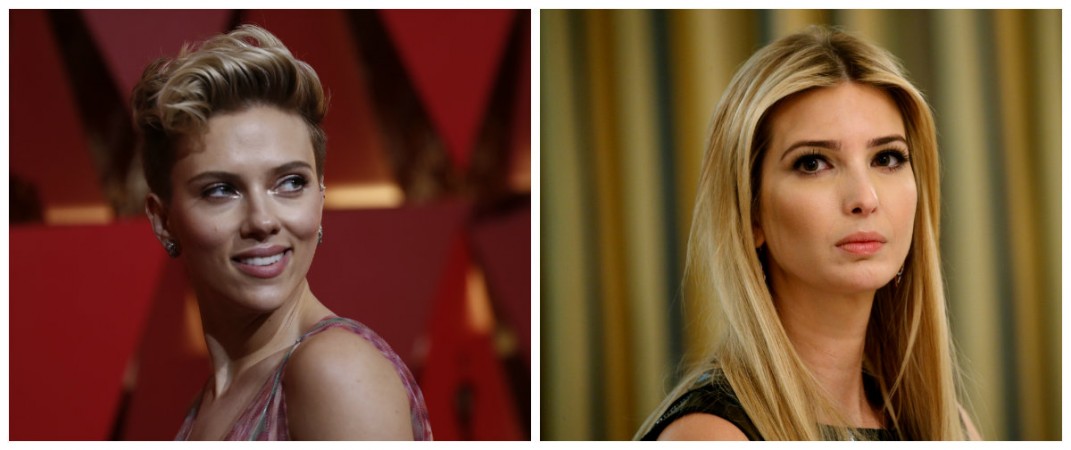 Ghost in the Shell actress Scarlett Johansson appeared on Saturday Night Live on March 11 and hosted the show for the fifth time. And boy, she made it a memorable episode. Not only did she give viewers a hilarious throwback to her previous visits, she also joined the league of comedians to take a dig at Donald Trump and family.
In the episode, a special advertisement was shot featuring Johansson where she mimicked Ivanka Trump. The cosplay was so good that it would be hard to tell who was better, Johansson or Ivanka herself. In the segment, the Avengers actress was seen advertising a perfume. She was seen wearing the same make up, hair and outfit as Ivanka wears.
Also Read: Malia Obama's internship style statements could give Ivanka Trump a run for her money! [PHOTOS]
In the SNL advertisement, Johansson is seen nailing Ivanka's body language, as she walks into a ball room full of delegates and the elite crowd. She is seen wearing a golden gown, hair let down and the trademark pout that never wears off Ivanka's face. She even adds the signature hand wave to bring in more authenticity to the video.
"A cent made just for her because she is beautiful, she is powerful, she is complicit," the voice over says, as they show the name of the perfume Johansson is seen endorsing as Ivanka. The advertisement doesn't end there. The voiceover adds, "A feminist, an advocate, a champion for women, but.. like.. how... She's loyal, devoted, but probably should've bounced after the whole access Hollywood bus thing," referring to her father's infamous 'p****gate' incident when he traded stories of sexual conquest with Billy Bush.
The fake ad continues with the tagline "The fragrance for the woman who could stop all this, but won't." The ad concludes with the voice over saying, "When she watches Titanic she thinks she's Rose, (but) sorry girl, you're Billy Zane." And add the last punch, "also available in cologne for Jared."
The special segment has been drawing a lot of attention on Twitter as fans of the actress and the show are in love with the impression. Will Donald Trump or Ivanka react to this? We'll have to wait and watch.