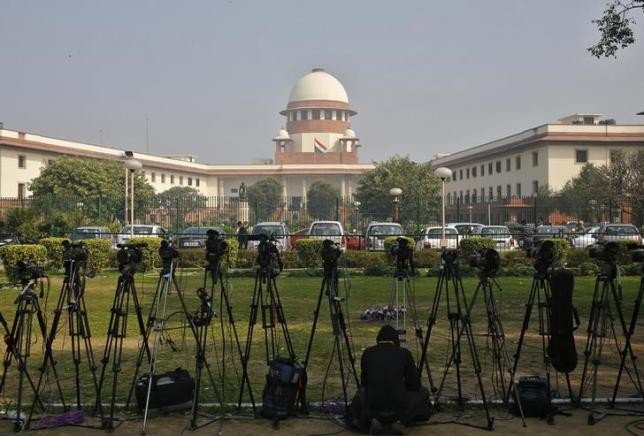 The Supreme Court of India on Monday sent a notice to beleaguered businessman Vijay Mallya to respond within four weeks on a contempt of court charge. State Bank of India (SBI)-led consortium of 17 banks has accused Mallya of giving false information on his assets to the court.
In a sealed cover submitted to the court by Mallya's lawyers on his behalf July 14, Mallya allegedly provided wrong details and hid certain financial details crucial to the case. One obvious detail was the $45 million the liquor baron received from Diageo.
"This gentleman (Mallya) has not complied fully with the orders of the court and he has not disclosed all the details about his assets. He has also not disclosed the amount of $45 million received by him from Diageo (British liquor major)," Attorney General Mukul Rohatgi, representing the state-owned banks, told the court, according to PTI.
He added that another cash transaction amounting to Rs. 2,500 crore was also missing in his submissions, and that the former politician had given wrong information to the court. This, he said, would attract contempt of court proceedings.
The apex court had earlier ordered the businessman to disclose all his assets, both in India and abroad, including that of his family, to the banks. Mallya had argued, through his counsels, that he was a non-resident Indian (NRI) and hence was not subject to disclosure of his foreign assets to Indian banks.
Legal experts opined that it was not Mallya's assets overseas per se but the assets bought illegally abroad by loans given to him by Indian banks, which were the reason behind demanding its disclosure. They added that ascertaining Mallya's net worth was important before reaching a consensus on his offer for any meaningful settlement with the banks. His family's wealth was to help get clarity on his repayment capacity.
Liquor baron Mallya's firms owe the banks more than Rs. 9,000 crore. His now-grounded Kingfisher Airlines alone defaulted loans more than Rs. 7,000 crore to 17 banks that have approached the country's top court to recover the entire loan amount.