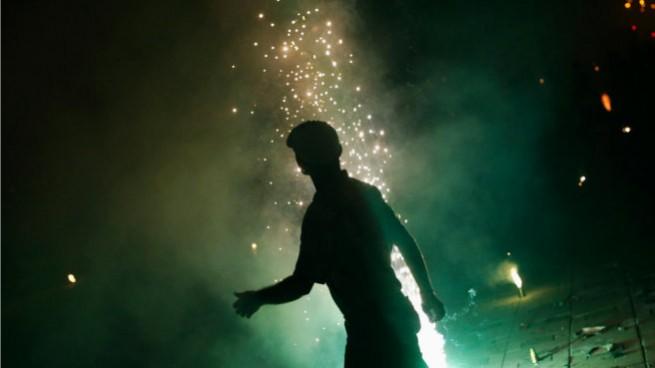 The Supreme Court order on October 28 to manufacture only environment-friendly 'green crackers' has the firework manufacturing industry staring at uncertainty and as a result, the future of 8 lakh workers engaged in the industry at Sivakasi (Tamil Nadu) is at stake.
The manufacturers claim that the approved chemical composition needed to make green crackers is not available and it would be impossible to replace conventional firecrackers for next year's Diwali.
According to normal practice, firework industry starts manufacturing new firecrackers for next year's festival about 10 days after Diwali.
However, this year, as there is no approved chemical composition for green crackers, the industry is clueless about when to start production. The top court has allowed the manufacture of green firecrackers which have reduced emission and has banned the use of barium salt, which is used in 75 per cent of all firecrackers.
Sivakasi is home to 1,000 fireworks factories, which accounts for 90 per cent of firecracker production in the country, and 8 lakh people are directly and indirectly employed in the industry.
If the industry shuts down, eight lakh people will be without any source of income and would become jobless overnight. This will affect the whole town as the fireworks industry is the main contributor to its economy.
Printing, packaging and logistics are the supporting sectors which employ people, most of whom are women working from homes. Workers had to endure a lot of hardships when manufacturing was shut for 25 days between December 26, 2017, and January 19, when the Supreme Court heard a PIL demanding a ban on manufacture, sale and use of fireworks to protect air quality.
To survive during that period, workers had to borrow money and to add to their misery in October, the Supreme Court ordered production of green crackers.
A worker gets a minimum of Rs 150 per day and it is dependent on the number of crackers they make. Some workers earn as much as Rs 500 per day.
K Mariappan, the general secretary of Tamil Nadu Fireworks and Amorces Manufacturers Association (TANFAMA), says they have filed a review position in the apex court.
"After Diwali, the picture will be clear about the future of the industry," Mariappan said.