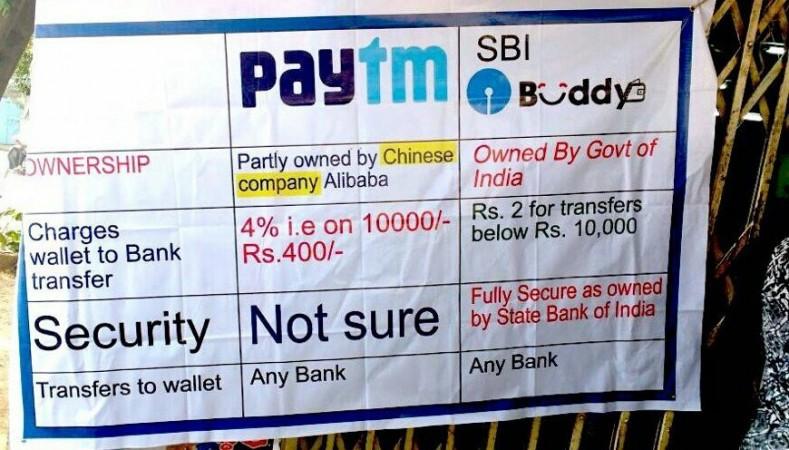 State Bank of India (SBI) is taking on mobile wallet Paytm with its own app Buddy, and the competition is set to heat up with India's largest lender putting up banners in several places across the country on how its own app is better than the rival. And patriotism seems to play a big part in the strategy.
Paytm has been in news ever since Prime Minister Narendra Modi announced on November 8 that Rs 500 and Rs 1,000 currency notes in circulation at the time would no longer be considered legal tender from midnight that day. The very next day, mobile wallet Paytm put out front-page advertisements on newspapers about how it could be of help.
Since then, the app has seen much wider acceptance among users, as compared to rivals such as Freecharge. During this time, it has also seen outages and experienced growth pangs that seem to have disenchanted some of its users.
What the banners say
Now, SBI has promised its own Buddy — described on its website as a semi-closed prepaid wallet which can be used to transfer money to other wallet users and bank accounts, anytime, anywhere — will not be anything like Paytm. What is more, the lender is banking on patriotism, among other things, to push the app, which is available in 13 languages: Assamese, Bengali, English, Gujarati, Hindi, Kannada, Malayalam, Marathi, Oriya, Punjabi, Tamil, Telugu, and Urdu.
In banners that are popping up at some SBI branches and subsequently their images on social media, SBI compares its Buddy app to Paytm and highlights the fact that Paytm is partly owned by Chinese company Alibaba, which has Jack Ma at its helm. It also claims on people's scepticism, saying that while Paytm is not secure, Buddy is "fully secure as owned by State Bank of India."
The banners also compare the amount the two apps charge for transfers. They say while Paytm charges 4 percent of the transfer amount for transactions below Rs 10,000, SBI Buddy charges only Rs 2.
SBI Buddy is available for Android in the Google Play Store as well as for iOS in the Apple App Store.