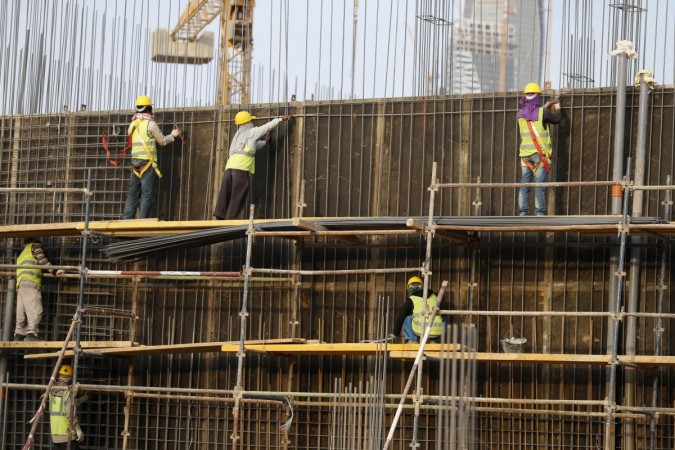 Saudi Arabia has paid about $1 billion to Saudi Binladin Group, its biggest construction company as part of the kingdom's efforts to help the laid-off migrant community to cope with job loss.
Last month, the Binladen Group was paid between $800 million to $1.1 billion so that the firm could "honour unpaid wages," the Wall Street Journal reported. The family-owned firm is involved in construction projects such as the Holy Mosque expansion in Mecca and building Riyadh's financial district.
The payments were being made so that thousands of idled labourers (the migrant workforce) could afford to leave the kingdom. In the last one year, payments have been slowed down as Saudi Arabia's oil revenue diminished.
A spokesperson of the Saudi Binladen Group confirmed the payments were made, but refused to provide further details,
Saudi Oger, another construction company, which is run by a Lebanese family, is on the verge of bankruptcy. It has failed to pay its employees and laid-off workers, bankers familiar with the company's situation were quoted as saying by the publication. However, it is uncertain if Saudi Oger also received payments from the government.
In other news, it was reported that the government of Saudi Arabia, last week, lowered salaries of the public sector employees by 20 percent and cut benefits since lower oil prices hit the kingdom's economy. The government will also not hire new employees for government-funded jobs until the end of the current fiscal year (which will end in December).
The issue of Indian workers not getting paid was first highlighted on July 30 when Sushma Swaraj tweeted that 10,000 Indian nationals, who had not been paid salaries for several months, were facing a "food crisis" in Saudi Arabia.
Thousands of Indian workers had lost their jobs due to a slowdown in Saudi economy. Since then, most of the workers have been brought back to India.