India's largest app-based cab aggregator Ola has joined hands with technology giant Microsoft to build a new connected vehicle platform for car manufacturers worldwide.
The Bengaluru-based cab aggregator said on Tuesday that Microsoft will be its preferred cloud provider and will use Microsoft Azure to its existing connected car platform Ola Play.
The cab aggregator said that it will transform driver and passenger experiences with vehicle diagnostics, improved in-car productivity, advanced navigation, predictive maintenance of vehicles and more. Both companies will collaborate to take this platform to car manufacturers globally, to integrate with vehicle systems.
"Globally, the auto industry is experiencing a seismic shift as the definition of automobiles is increasingly changing from gas-powered vehicles to technology-packed, connected devices. With Ola Play, we have already set the tone for connected vehicles in India; together with Microsoft, we can make the new platform available to a larger, global audience and unlock futuristic experiences for customers worldwide," said Bhavish Aggarwal, co-founder and CEO of Ola.
The rationale of this partnership is Ola Play, which would leverage Microsoft Artificial Intelligence (AI) and Internet of Things (IoT) solutions to enhance driver experience with telematics and navigation guidance, the release said.
Also, passenger experiences with cloud-based infotainment and productivity; and provide auto manufacturers with custom digital experiences for their customers are other benefits.
"Today, car is quickly becoming the ultimate computing device and together with Ola, we're focused on providing more intelligent, connected and productive experiences to our customers," Microsoft CEO Satya Nadella said, who currently in India.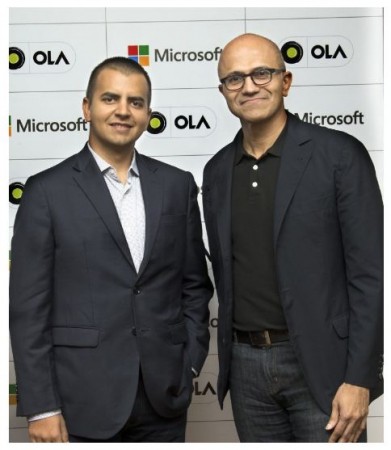 The platform is designed to continually collect, analyse, and learn from high volumes of data and user behaviour. This will allow for customised offerings to shape the nature of services and business models, such as usage-based insurance, amongst others. Microsoft and Ola also plan to build superior safety features and advanced driver assistance services, as well.
"The combination of Microsoft Azure, Office 365 and our AI platform with Ola Play will deliver new customer experience and business opportunities across the automotive ecosystem," Nadella explained.
"The advanced telematics platform would transform the car into a high-performing, intelligent vehicle, capable of assessing fuel efficiency, engine performance, and driver performance," the cab aggregator said.
Last month, Ola had raised about $2 billion (approximately Rs 13,000 crore) in new funding from SoftBank, Tencent Holdings and other investors.