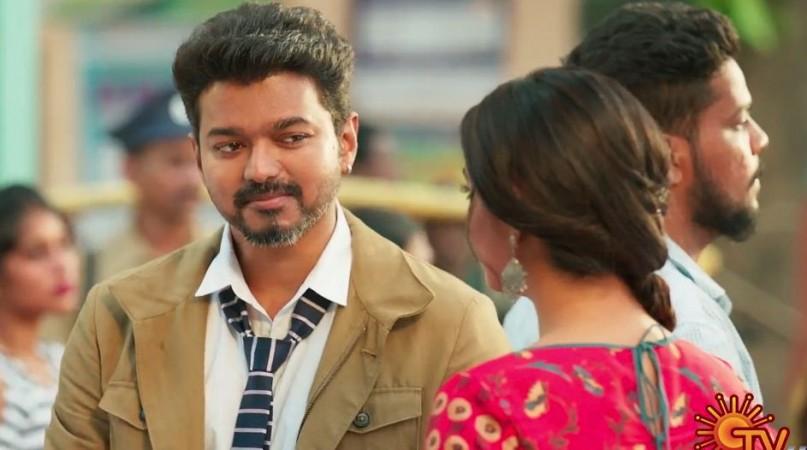 Telugu film critics are impressed with superstar Vijay's performance and the concept of Sarkar, but they are upset with director AR Murugadoss' execution, as it is predictable and slow in narration in parts.
AR Murugadoss, who is known for mixing social causes and entertainment, has picked up a burning political issue and weaved a commercial entertainer around it. The movie is about a citizen going against the power hungry and corrupted politicians. The first half has very high moments for fans and the actual story starts in the second half, which seems to be of no logic and sense, say the Telugu critics.
Sarkar has a very well setup plot, but the director has spoiled it with his farcical screenplay in the second half, which may impress Vijay fans only. Vijay's acting, action scenes, dialogues are the highlights of the film. Predictable and dragging narration, forced sentimental scenes and poor songs and background score are big let downs in the movie, add the critics.
Sarkar has been rated 2.53 out of 5 stars. We bring you some Telugu critics' verdict and ratings. Continue to see them in Sarkar review roundup:
123 Telugu Rating: 2.5
Sarkar is a routine political thriller which banks heavily on the screen presence and charisma of superstar Vijay. His performance is the highlight as he carries the entire film on his shoulders. His fans will love the film but for the Telugu audience, there is nothing new that the film showcases and lacks basic entertainment. So, the Tamil version might get a thumbs up but here in the Telugu states, Sarkar will only find a few takers.
Times of India Rating: 3
The underlying message and a strong performance delivered by Vijay are what make Sarkar a smart, yet stretched-out watch.
Chitramala Rating: 2.5
The good thing about this movie is it lets us know the importance of a vote. Everything that happens towards climax seems very artificial and there is nothing to give high. The plot that is very well setup is spoiled by this farcial screenplay in second half and may be Vijay fans might find it good as their hero is seen on screen. To sum up, Sarkar is just one time watchable film which looks pale in comparison with Thuppaki and Kaththi.
The Hans India Rating: 3
'Sarkar' would greatly impress Vijay fans. It seems like the movie has been designed as a complete political drama to showcase Vijay's real-life political ambitions. Watch with limited expectations to enjoy the film.
Telugu Mirchi Rating: 2.25
Its out and out hero based movie. The movie is recommended for Vaijay fans. Tamil version must have been applauded due to the mass elements involved in it.Routine political drama.
AP Herald Rating: 2
Sarkar is what karma does - what you sow, so you reap, as Murugadoss has Plagiarised story of a budding director and crushed his dreams of a career, but despite stealing a story, fails badly by his inability to create a good screenplay, as sarkar ends as a poorly made commercial disaster.
Great Andhra Rating: 2.5
Sarkar is a political movie with predictable scenes and decent first half. It may work for Vijay's fans in Tamil Nadu, but for Telugu audiences, it is an average show.