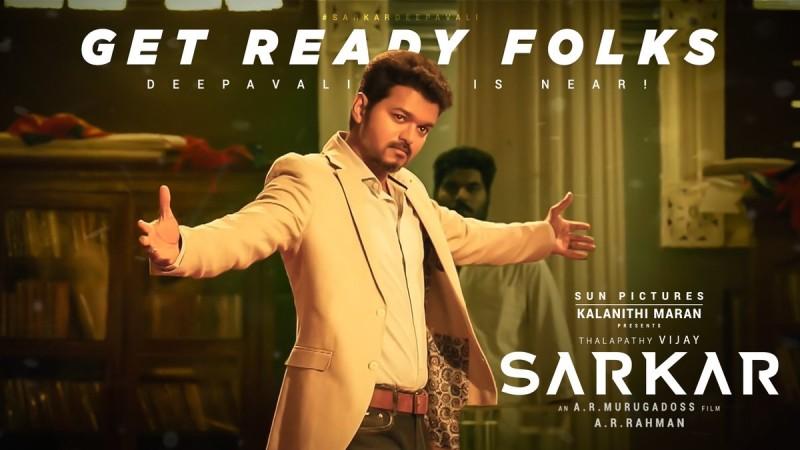 The countdown for the release of Vijay and Keerthy Suresh's Sarkar has begun. The action thriller is seeing the light of the day in over 3000 screens worldwide which clearly tells about the hype around it.
With two more days left for its theatrical release, the reviews on Sarkar have started floating on the internet. Especially on Twitter, there are people, who claim to have access to the sources in censor boards in different countries, have heard positive things about Thalapathy film. Sarkar collects Rs 185+ crore Before Release
The rumours started soon after Vijay-starrer Sarkar cleared the censor test. A self-proclaimed journalist tweeted the below on 30 October.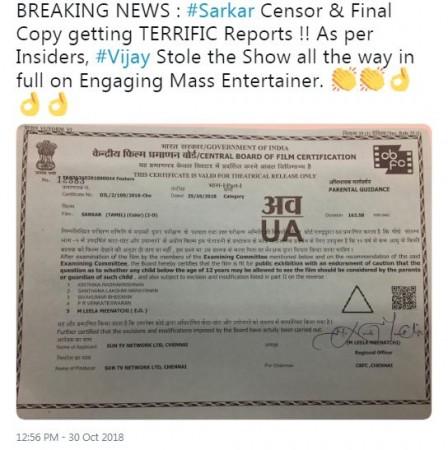 The same reviewer has now come up with another set of tweets claiming to have watched the movie on Sunday, 4 November, in a special screening in the UAE. He tweeted, "First Half of #Sarkar is Full on Mass & TERRIFIC ! #Vijay Entry Scene is Just Paisa Vasool ! No Dull Moment till now. [sic]"
Adding further, he posted, "Done with UAE Censor Screening of #Vijay #Sarkar ! Review is coming ! [sic]." And he ended on the note, "For those asking, #Sarkar is a Well Made film in all respects !! Engaging Mass Story, Eye Catching Cinematography, Power Packed Dialogues & Action Stunts !! Hattrick Success on the way for #ARMurugadoss & #Vijay after #Thuppaki & #Kaththi. "
Likewise, another post read, "#Sarkar Censor Reports :
Best film in #Vijay - #ARMurugadoss combo.
#Thalapathy's controversial dialogues will be the talk of the town after movie Release.
Best Performance in #Vijay's career.
The Story & Screenplay are absolutely OUTSTANDING !
New ERA in Tamil Cinema..!
Well, many are refusing to believe the claims citing that those are fake posts. The general perception is that such tweets are made to boost the individual social media accounts.
However, International Business Times India could not validate the authenticity of the claims.
AR Murugadoss' Sarkar is an action thriller and produced by Sun Pictures.