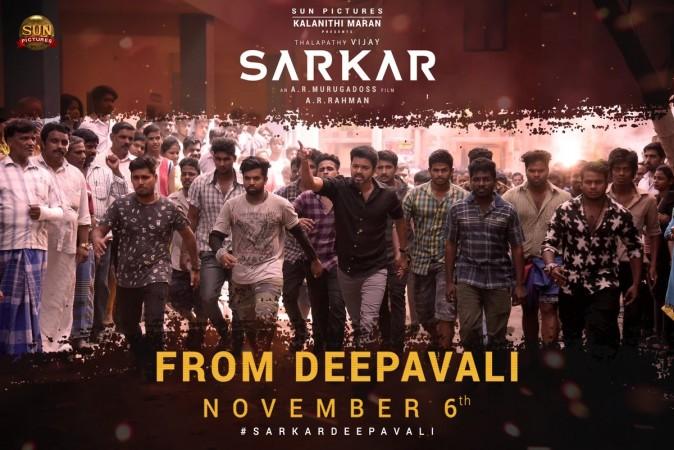 Vijay has expanded his market across the globe with his each movie. It has reflected on the business made by his movies. With his Sarkar, the actor has achieved a new feat as his latest movie has done a record-breaking pre-release business.
A rough estimation from the trade says that Sarkar has minted over Rs 185.6 crore. The biggest chunk of share has come from Tamil Nadu through the theatrical rights. The makers have earned Rs 81 crore from this region.
From the rest of South India, the AR Murugadoss-directorial has collected 23.6 crore, while the rest of India theatrical rights have fetched Rs 1 crore. The makers have earned a total of Rs 105.6 crore from the sale of domestic theatrical rights.
Coming to the overseas theatrical rights, the makers of Sarkar have collected around Rs 30 crore to earn Rs 135.6 crore from the worldwide theatrical rights. Below, find the break-up of pre-release business:
Area
Price
Tamil Nadu
Rs 81 crore
Karnataka
Rs 8 crore
Andhra/Telangana
Rs 7.5 crore
Rest of India
Rs 1 crore
Total in India
Rs 105.6 crore
Overseas
South East Asia
Rs 11 crore
North America
Rs 5.5 crore
UAE/GCC
Rs 5 crore
Europe
Rs 4.1 crore
Srilanka
Rs 2 crore
Rest of the world
Rs 2.4 crore
Broadcast, Hindi dubbing and other rights
Rs 50+ crore
Total Pre-Release Business: 185.6 crore
The movie is releasing in over 3,000 screens on Tuesday, 6 November. The movie is having special shows across South India although there are no signs of it in Tamil Nadu due to the state government's latest guidelines to the exhibitors.
The trade sources say that there is an unprecedented demand for tickets in Tamil Nadu.
The Sun Pictures-produced movie is having over 300 special shows in Kerala and from the advance booking it has already fetched above Rs 3 crore. In Karnataka, the Thalapathy Vijay's film has over 50+ special shows.
In the US, the premieres of Sarkar, in which Keerthy Suresh has romanced Vijay, are planned in 150+ locations.
Looking at the buzz, it is clearly evident that Sarkar will get an earth-shattering opening at the box office, but it has to be seen how the movie performs after the initial fans' craze is over.