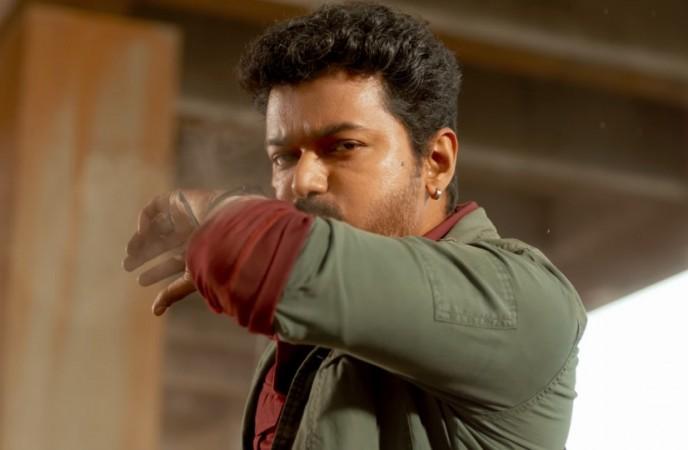 Vijay and Keerthy Suresh's much-awaited Sarkar has opened to mixed response. While Thalapathy's performance has been hailed to heavens, the lacklustre screenplay has let down the movie. The lack of strong villain is one of the drawbacks of the Tamil movie. However, Vijay's fans are not complaining as they feel his power-packed performance makes up for a good watch.
Story
Sarkar is the story of a corporate taking on our rotten political system. We have seen common man turning vigilante or taking on the crooked politicians. This time around, a powerful corporate flexes muscles with the corrupt men. Sundar comes to India to cast his vote, but he is in a shock upon realising that someone has cast his vote on his behalf. Shocking: Sarkar Full Movie Leaked on Tamil Rockers
He goes to court seeking justice and uses 49 (P) section which gives him power to cast his vote again. His act inpires lakhs of people, who could not vote due to the same reason. With so many joining the movement, Tamil Nadu goes for re-election and the drama that unfolds should be seen on-screen. Sarkar Reviews from Overseas
Sarkar Reviews:
The movie has taken potshots at the politicians, especially the ones from the ruling party. With a message wrapped up in the storyline, Sarkar becomes a typical AR Murugadoss' action thriller. However, the content lacks freshness and reminds many of his own works along with Shankar's movies.
The screenplay in the first half fails to narrate the story convincingly and the artificials scenes do not help the cause. The second half is better although it is predictable.
Average Ratings Given by Audience: 3
Performance wise, Vijay owns the show with his top tucker performance and through his unparalleled energy. Keerthy Suresh does not have much to do in the film, while Varalaxmi's performance is not up to the mark. However, the movie lacks a powerful villain like in Vijay's recent movies – Neil Nitin Mukesh in Kaththi, SJ Suryah in Mersal ir Sudeep in Puli.
Technically, AR Rahman makes up with BGM for the disappointing songs. The cinematography is good, whereas editing could have been little better.
Check out what viewers say about Sarkar:
Raam Bala: #Sarkar The movie for the common people ✌️ contains a powerful political content to make a change in TN ♥️ kandippa innoru thadava paakanum ellarum padam paatha Nalla irukkuhm tq @ARMurugadoss @actorvijay for this film ♥️ #OruViralPuratchi gonna happen soon ♥️✌️.
Shreyas Srinivasan: #Sarkar - Vijay's most stylish avatar! Intense performance!
A brilliant 1st half set for an intense 2nd half, but dropped intensity & ended up as a decent outing from the BB combo!
Top-u Tucker-u BGM! #ARR
Yogi Babu rocks in 2 scenes(Avlodhaan varaapla)
#ARM #KeerthySuresh
Manobala Vijayabalan: #Sarkar 3/5: Backbone of the film is #Thalapathy #Vijay. His mannerisms, dialogue delivery, swag, & plenty more are totally likable. One requires huge courage to accept this kind of films and #Thalapathy has done it with ease. He never fails to impress his fans.
#Sarkar 3/5: DECENT watch. An ordinary execution by @ARMurugadoss in an attempt to justify the title. Considering the kind of buzz and attention the movie has created, it couldn't live up to the expectation. Might not work for all types of audience.
#Sarkar 1st half: GOOD.
- #Thalapathy #Vijay nailing it completely with powerful performance.
- @KeerthyOfficial is refreshing.
- Substantial role for @varusarath.
- @arrahman's BGM
- Politically strong from @ARMurugadoss.
- "I'm waiting"
Ajay Kumar Aj: #Sarkar - One Man Show
Positives : Vijay's powerful screen presence, excellent first half and first 45 mins in second half and lot of fan moments
Negatives : Two unnecessary songs, very routine pre climax and climax
Final Word : Tuppakki > Sarkar > Kaththi
Fully Cinema South: Despite the strong subject, Murugadoss's superb conviction for most of the runtime and last but not the least #ThalapathyVijay's power packed performance makes up for a good watch. @varusarath's career best. She is just wow.
Film Analyst: #Sarkar - Brilliant Thought In Attempting To Make A Film Of Such Kind By A.R.Murugadoss Who Utilises @actorvijay In A Different Way. Sarkar Is More Of Content Oriented Than Something Which Targets Entertainment. When It Does, It Doesn't Suit The Tone Of The Film. 2.5/5
#Sarkar - Vijay Over Expresses Himself Than Underplaying Which Has Worked Majorly For Him In Be It Kaththi Or Mersal. Sarkar, We See A Vijay Who Is As Enthusiastic As One Would Want But In A Wrong Theme. 2.5/5
#Sarkar - Overall Is The Weakest Film Of AR Murugadoss And @actorvijay Combination. By Weak, It Is 2 Times Below Their Second Best Kaththi. Let's See Where This Heads. Mersal Collection Seems A Far Far Reach. -2.5/5
Amsankar: #Sarkar - Overall average flick. Could have been a lot better than this. Neyamana, thevayana, nermayana underplayed screenplay vechurunthale padam super ah irunthurukum. Too much dialogues are annoying.
Surendhar MK: #Sarkar: @ARMurugadoss churns out another earnest attempt after his #Kaththi. At times educative and a little preachy, but mostly engaging and makes you really think for a while, which I feel is the real win for the man.
#Sarkar: Radharavi, Pazha Karuppaiah and Varalaxmi Sarathkumar are the letdown in the film. The absence of a strong villain is very much felt despite #Vijay trying his best to make it up with his electrifying screen presence.
#Sarkar: AyodhiKuppam sequence gave me sheer goosebumps. Whenever there's a deeply affecting scene, #Vijay surely knows how to win hearts with his whole-hearted performance. He's an emotional monster!
#Sarkar - A true-blue one man show from #Thalapathy #Vijay all the way. He leads the pack by a mile. Whenever there's a dip, it's his assured performance which makes you sit up. A finely packaged mass film with topical political happenings that touched the hearts of TN people.
#Sarkar l: Easily, the biggest highlights so far are the stunt sequences. Extraordinarily staged and performed with great intensity by #Thalapathy #Vijay. ACED it beautifully with his expressions. Ram-Lakshman duo
#Sarkar CEO in the house. Swag. Check. Style. Check. Attitude. Check. Effortlessly graceful moves. Check. Mass. Check. ENERGY. Check. The name is #Thalapathy #Vijay.
Half way through #Sarkar. #Thalapathy #Vijay's most satisfying, most improvised, most attitude-driven performance, easily. @ARMurugadoss and Jeyamohan have delivered some of the best dialogues which connect emotionally well. TOP TUCKER so far
Rajsekar: In Tollywood @tarak9999 and in Kollywood, it's @actorvijay two powerful performers (within the commercial format ) who can lift the film single-handedly and make us forget all flaws and commercial cliches. Both brilliant dancers and dialogue delivery is their strength!
#Sarkar - No other Tamil actor addressed social issues like #ThalapathyVijay in recent times. Guess he is traveling in MGR route, looks like this man is game for politics.
#Sarkar is definitely not a flawless film. It's a typical mass masala entertainer with needless songs(except Oru Viral Puratchi)&hero glorifying stunts but @ARMurugadoss once again got a winner mainly because of the relevant political happenings depicting the suffering of TN ppl
#Kaththi - Jeevanandham arrest and farmers suicide, #Thuppakki - scene where Vijay explains the scene of army men and in #Sarkar, his voice depicting the pain of fishermen. Vijay is such a powerful performer who melts even stone hearts. Tears rolled down from my eyes
#Sarkar - The scene where #ThalapathyVijay addresses Ayodhikuppam folks is the film's high point, top tucker scene @varusarath career best performance in a brief yet important role as the cunning new age politician.
#Sarkar second half - Top Tucker . #ThalapathyVijay completely owns the film with his powerful dialogue delivery. @ARMurugadoss packaged the film with necessary relevant political information. Oru Viral Puratchi is the soul of the film @arrahman
#Sarkar first half - It's #ThalapathyVijay show all the way. As usual,he rocks with his dialogue delivery and energetic screen presence.Some strong political punchlines criticizing the present Government. A political film treated with mass masala flavor. Real game begins from now
#Sarkar first half- @arrahman 's Top Tucker BGM with local kuthu touch in the open fight sequence is kickass. Just like #Thuppakki and #Kaththi, here too the intermission ends with Vijay's trademark ' I'm waiting ' punchline.
#Sarkar first half on the downside - As usual, songs are speed breakers. @ARMurugadoss film doesn't need songs, totally needless. Villains are also quite weak.
Ragha G vendran: #sarkarreview #Sarkar #SarkarDiwali Overall this fillm is not original story but combination of all good scenes from good poilitical movies with vijay acts as holding rope
#radharavi challenging #vijay.. feel like mudhalavan interview scene inspired #sarkarreview #SarkarDiwali #HappySarkarDiwali happy
This movie is not upto mark of kathi and thupaaki. But with current political scenario..people and fans will make it run...on par with bairava and thalaiva film
Radharavi and varalakshmi combo is good. But felt some scenes are forced to please fans...
#vijay is holding whole movie with punch dialogues which has predictable and weak screenplay...felt like #sivaji 2.0
First half...predictable screenplay...vijay playing businessman who came to chennai saddened by condition of people and his vote rights blocked angered and lauching his attacks politicians..felt like #sivaji movie
Kaushik LM: #Sarkar - My final rating 3/5.. Liked the 1st half particularly.
Extravagant #Thalapathy #Vijay's presence & star power will enable the film to take a huge initial at the BO. His sheer mass persona will make ppl digest the film's heavy and current political flavor. @ARMurugadoss
#Sarkar 2nd half -The emotional public gathering scene when Sundar talks about his past is the highlight. #Oruviralpuratchi had its strong moments too.
But, over the top climax stunts, weak on logic / believability & overacting are downers. And the political genre isn't for all!
#Sarkar 1st half - Admirable to see #Thalapathy #Vijay be sophisticated and stylish in his looks, dialogues, body language and attitude, & also transition to 'local' and 'mass' easily. Pakka virundhu for his fans. It's a new high in his screen presence.
Meedhi aattatha paarpom..
#Sarkar 1st half -#RadhaRavi proves that he is an evergreen villain. @varusarath's role promises a lot here on.
The story's setup, conflict are established. Sundar will take on the politicos and their corrupt system. It starts off with a bogus vote & takeoff from there. Engaging
#Sarkar 1st half - A celebration of #Thalapathy #Vijay.. Manushan vilayadirkaaru.. He looks his very best till date, pakka costumes; grt work by @girishganges.. Topu Takkaru form.. Swag
Other highlights include the powerful political dialogs. Action scenes are for mass fans