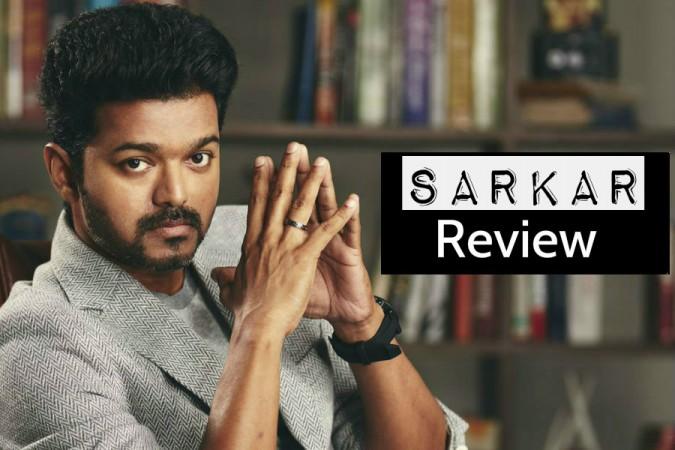 Vijay and Keerthy Suresh's Sarkar has garnered largely negative reviews from the overseas audience. The viewers are upset with the narration although people have praised Thalapathy's performance in unison.
After two blockbusters in the form of Thuppakki and Kaththi, AR Murugadoss has teamed up with Vijay again for Sarkar. Like the previous films, the latest flick too is an action thriller in which Keerthy Suresh has romanced Thalapathy. Varalaxmi Sarathkumar's role has been kept as a surprise. Radha Ravi enacts the character of an antagonist. Shocking: Sarkar Full Movie Leaked on Tamil Rockers
Yogi Babu, who has become a favourite comedian among Tamil audience, J Livingston and a host of other actors are part of the cast in Sarkar. The film has Girish Gangadharan's cinematography and Sreekar Prasad's editing. Oscar Award-winning musician AR Rahman has scored the music. Of five tracks, Simtaangaran and Oruviral Puratchi songs have struck the chord with the viewers. In pics: Sarkar release: First show of Vijay's film begins with massive celebrations.

Sarkar Story:
What happens when the ego of a man with a strong character is hurt? He wants to hit back and prove his point. The story of Sarkar goes on the similar lines. An NRI and business tycoon, Sundar (Vijay) comes to Chennai to take part in the election. He gets the biggest shock of his life when he realises that his vote can be cast by someone else.
Sundar is badly hurt and being a powerful corporate, he has the natural instinct to crush whom he considers as his enemies. Now, the hero is in search of the truth which leads him to the corrupt politicians with the help of his sweetheart played by Keerthy Suresh.
Sundar's face off with the politicians and his fight for justice form the crux of the story.
Hype:
As Sarkar marks the third union of Vijay and AR Murugadoss, there is a mountain of expectations from the Vijay-starrer. Further, the teasers have piqued the viewers' interest of the Tamil cine-goers to come to the theatres to watch the flick. As a result, it is releasing in a record 3000+ screens.
Sarkar Review:
The movie is releasing in some foreign countries on Monday, November 5, while it sees the light of the day in a few foreign countries a day later. Here, we bring you the live audience review of Sarkar:
Baburaj K: Saw FDFS at Dallas, TX. The message and treatment of the plot in the first half is very effective and crisp. The plot loses its momentum and purpose in the second half by promoting Vijays's political ambitions with a unrealistic narration. They are expecting politicians to comment and help the movie in the box office. I am sure it will happen too.
#⃣ 7⃣CEO Vj : #Sarkar
THALAIVAA sema. Really Vijay has spoken his voice through ARM for the exact condition of TN.Needs a rough gut to this kinda movie.Enjoyed a lot.On the whole movie for every audience.Only negative thing I felt is the villain in 2nd half is a let down.
Saran Sundar: #Sarkar - 1st half has solid good moments needed for a commercial flick despite Murugadoss touch was missing. Then 2nd half went blindly. Vijay's mannerism/ attitude was new so does he looks so fresh. OVERALL SUMAAR.
Winter: #Sarkar Telugu 2nd half..A movie solely made to promote POLITICAL vijay..strictly for vijay fans..for others a SPYDER range muruga ROD..Personally for me Spyder is better than Sarkar.
#Sarkar Telugu 1st haf..Though core point is good...the message is lost amidst too many unwanted scenes...telugu dubbing is also not upto the mark..but should cater well for tamil audience as it has few good hero elevation scenes..overall AVG 1st half..
Abhishek: Tone might look preachy, but @ARMurugadoss and @actorvijay kootani thodaranum!
Ivanga dhan indha arasaangathukku edhir katchi #Sarkar
Idhu namma #Sarkar
@ARMurugadoss awakens the social consciousness
@actorvijay is choosing to inform over entertain
@actorvijay hasn't performed liked this in a really long time. People who found him repetitive are going to respect him for the flagging he's doing and he is going to be doing
With such aplomb, @actorvijay is carrying this intimidating attitude that looks killer on screen.
Particularly the KO scenes with #Radharavi is total entertainment
Body language and sharp dialogues are put to maximum use
That shot in which @actorvijay rams into a guy and gives a chuckle was double delight
Star power and charm combined
#Sarkar is content plus fanfare
Unmatchable charisma
Somebody in the 40's can look so jaw dropping, it has to be @actorvijay
#Sarkar is pure information. With very little breathers, the story is given top priority. Major showdown is yet to begin but propaganda has begun already.
Sathish Kumar M: #Sarkar A Poltical Movie with all the commercial elements & ever stylish #Thalapathy at his best.
#ThalapathyFans will celebrate this movie & watch it multiple times.
Best Ever Diwali treat from #Thalapathy to his fans.
#ThalapathyDiwali #SarkarFDFS response
Walter White: So it seems that the story is good but Vijay has over done his mannerisms and that weird part where he keeps his mouth like he's chewing pan masala. And his fans are raving over it #SarkarFDFS #Sarkar
$€₦: #Sarkar - the inefficiency of the govt has been told in the most bangable way that hits the viewers hard
Preethi: #Sarkar 1st half - Admirable to see #Thalapathy #Vijay be sophisticated and stylish in his looks, dialogues, body language and attitude, & also transition to 'local' and 'mass' easily. Pakka virundhu for his fans. It's a new high in his screen presence
Meedhi aattatha paarpom..
APHerald: #SARKAR Review - Dear AR Murugadoss this is what happens when you cook food from a stolen recipe. Spyder looks a classic now. W O R S T
#Sarkar - Sundar visits Kuppam. The people mock him. One person throws a tomato and Sundar says a short story on the ...
#Sarkar - First Half - Definitely no where near Thuppakki or Kaththi. Routine Political drama like recent releases. Vijay smokes, fights, dances for item songs. Hope Sundar Pichai doesn't file defamation case. Keerthy Suresh zero value. Varalaxmi just talks in phone. Very average
sundar: #Sarkar first half over. Thalapathy show all the way. Can't take my eyes off him. Fans here shouting for repeat of first half. Such craze! Sure shot blockbuster #Sarkarday #SarkarDiwali #ThalapathyDiwali
Xappie®: 1st half was a powerful combination of Indian law, Voting system,corruption, heroism money & public. #Sarkar so far is an absolute best of what a movie & music can offer together. Excellent acting & screen presence by #IlayathalapathyVijay
@ARMurugadoss touched 2 points so far - Marketing & Branding. How he metaphorically used them to fit into the plot of Votes,Corruption, bureaucracy is interesting to watch
First action sequence in 50mins, with a background song Top Tucker is simply mind blasting.
Adrenaline directly pumped into audiences hearts. Extravagant to say the least. #Vijay was effortless as usual.
c#Vijay lands in chennai. Instantly surprised by the flawed voting system, he decides to get to the root of it. Straight into the subject with no waste of time.
True craze for @actorvijay and the two time winning combination of @ARMurugadoss and #Vijay managed to bring in full packed crowd in the US. Fdfs updates to follow now!
#Vijay described as a tech monster, has the most lavish introduction. Taking it straight to Vegas theatre has erupted with roars, it is hard to believe that it's not #chennai but US!
Radha Ravi accidentally meets #Vijay and throws a challenge at him. One of the best scene so far #Vijay gives his best response- Silence
VCD: #Sarkar Second Half - Takes off superbly. @ARMurugadoss definitely brings up something different from Kaththi and Thuppakki and delivers it with lots of relatablity with regards to the political happenings.
#ThalapathyVijay takes to the next level with his charisma
When CEO Sundar turns into Vetri Theater Erupts
#Sarkar First Half - The Interval Block is in no way less than Thuppakki or Kaththi Interval Block. Pattasu Dialogue deliveries and mass expressions from #ThalapathyVijay
A demanding plot that gives lots of scope to make the star deliver good things to the audience.
#Sarkar First half - Really liked the way CEO Sundar's Negative shade had been established. Contrastingly, #ThalapathyVijay's mannerisms, expressions & the good will in him is also portrayed the way how he is in real life. Movie gives a lot of insight about the untouched Politics
Nanban Sathish: #Sarkar first half - complete package- the dialogue delivery and energetic screen presence by #ThalapathyVijay Mass as alwayssss massss❤️!!!
George's SARKAR Fever: #Sarkar: You think Thuppaki is Vijay's most mature performance?You will be in for total surprise. As I told before, it's Vijay's most improvised performance here. This is plot driven movie. I'm happy that ARM has utilized Vijay's pluses superbly. Both songs are nicely placed.
#Sarkar Interval - 100 varushathuku ninnu pesum. Top class movie so far with absolutely adrenaline pumping intermission. This is one movie that is getting claps right from word
Shahul Riyaz: #Sarkar primere show watched, thalapathy is been cool, Dance and action always mass @actorvijay
Simtangaran, songs vaera level @arrahman but movie is not up to expectation . All the best to Sarkar team and wishing you all a happie and safe diwali
Mr Master Review @BoardSujith: #Sarkar +ve Reports from Preview show viewers . Fights being the highlight of the movie and talk being +ve Thuppaki - military Kaththi - Farmers SARKAR - Voters 3.75/5 Commercial Treat @Actor_Vijay #SarkarDeepavali #SarkarDiwali #ThalapathySarkarFromTomorrow