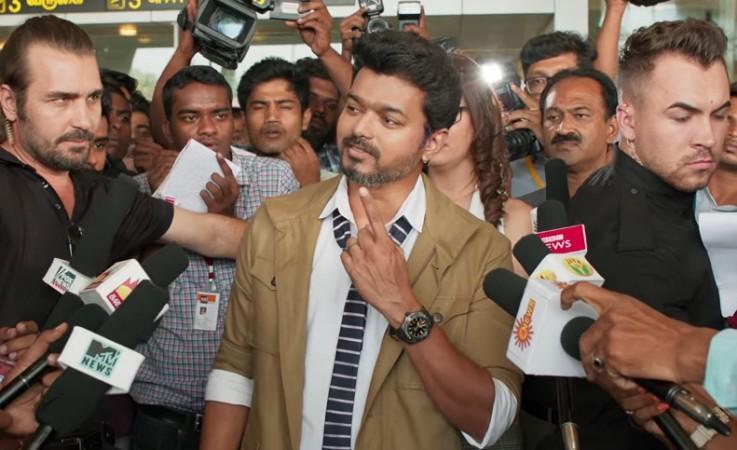 Despite getting mixed reviews from audience and critics, Sarkar has managed to receive good words from celebrities. Many notable names have taken to the Twitter to hail the Vijay-starrer, which hit the screens on Tuesday, November 6.
Sarkar is a political thriller, which tells the story of a man fighting against the rotten political system in India. Sundar (Vijay), a powerful corporate, comes to the country only to vote, but he is in shock after someone had already cast his vote. He goes to the court and what happens thereafter is the crux of the story.
Vijay's performance has been praised by the reviewers in unison. His acting, dance and dialogue delivery have garnered a good response. However, despite the good storyline, the screenplay has come under the attack as it fails to engage the viewers at parts. Sarkar review in funny memes:
Not surprisingly, celebrities have overlooked the shortcomings and have tweeted positively about the Vijay and Keerthy Suresh-starrer. Here, find the select-few comments posted by them:
Mahesh Babu: #Sarkar is an engaging political drama!! Thoroughly enjoyed it... An @ARMurugadoss trademark film Congrats to the entire team
Gopichand Malineni: #Sarkar pakka mass with a gud concept #49p @actorvijay rocks @ARMurugadoss u r always an inspiration sir @KeerthyOfficial @varusarath excellent ,congratulations to entire team
Atharvaa: Just watched #Sarkar and truly Entertained. Wishing our Thalapathy @actorvijay sir , @arrahman sir @sunpictures @KeerthyOfficial @varusarath and the entire cast & crew a BlockBuster Diwali ! And all thanks to @ARMurugadoss sir for educating us on Section49p .
Editor Ruben: #Sarkar aka #49P it's Thalapathy show all d way Mass @actorvijay sir Thanks for educating a voter's right @ARMurugadoss sir @KeerthyOfficial cute as always @varusarath Mass villi Congrats @sunpictures & the entire team.
Vivek Lyricist: 'Padam paathutu idhuvaraikum vote pannaadha Oruthar vote podanumnu nenacha kuda podhum Sir' - @ARMurugadoss Sir told me this during a discussion with a lot of pain reflecting in his eyes.
The intention of the film is satisfied now. Many Congratulations Sir
taran adarsh: The hugely awaited #Tamil biggie #Sarkar, which opened today, has got fantastic showcasing outside Tamil Nadu as well... In Mumbai, for instance, the plexes have allotted 8, 9, even 11 and 12 shows every day, which is a rarity... The hype is truly tremendous... #SarkarDiwali
atlee: #Sarkar mass &emotionally connected @actorvijay Anna Vera level mass@ARMurugadoss sir ur always an inspiration sir @arrahman awesome sir@KeerthyOfficial super nanba @varusarath Nanba @Lyricist_Vivek Na @sunpictures thanks for the gr8 film #IdhuDaanNammaSarkar
Ajay Gnanamuthu: #Sarkar VerrrrrriiiiiiMaaaaaxxxxxxx!!! @ARMurugadoss sir Loved Thalapathy @actorvijay sir from start to end..Prime Form#SarkarInRamcinemas
Balaji Gopal: 49p May hurt every Govt after elections from now on...
Mohan Raja: Jus now Saw #Sarkar .. Wow @actorvijay Nanba.. What a display of energy n charisma .. Love u more.. Congrats to the Team on a product well done
ravi k. chandran: @ARMurugadoss @actorvijay The super hit combo 's #political action thriller # total mass .. Thalapathy 's powerful dialogue delivery and top form performance is a delight to watch ..#BlockBusterSARKAR
pcsreeram: The power of voter is once more proved supreme. The beauty of democracy.
Thiru: There is a scene where Vijay sir will choose d Candidates
A lady's dialogue (Jayamohan) about Pain @varusarath more power to u.. #SARKAR
Shanthnu Buddy: Connects us completely wid the present scenario @actorvijay anna sends a hardhitting msg to us! Wt an on screen charisma #OruViralPuratchi அரசியல் சும்மா மெர்சலா இருந்துச்சு @Sibi_Sathyaraj Machan நம்ம டிஸ்கஸ் பண்ண விஷயம் directa அண்ணா கிட்ட டிஸ்கஸ் பண்ணுவோம்
Sibi Sathyaraj: #Thalapathy does it again! He completely mesmerises us once again with his style,screen presence,emotions and unparalleled dialogue delivery! Kudos to @ARMurugadoss sir for giving a political drama with entertainment! Perfect #Diwali Bonanza! #Sarkar @sunpictures
Hema Rukmani: #TopTucker #SARKAR pakka entertainer #Thalapathy semma style & performance. Vere level dialogue delivery. Impressive screen presence @varusarath A bold mass film by @ARMurugadoss @sunpictures @arrahman #ThalapathyDiwali #SarkarDeepavali
Dhananjayan BOFTA: #Sarkar is very stylish with a good social message from @ARMurugadoss sir. Certainly a good watch this Diwali for @actorvijay sir's most stylished acting with impactful dialogues. Go & celebrate with family