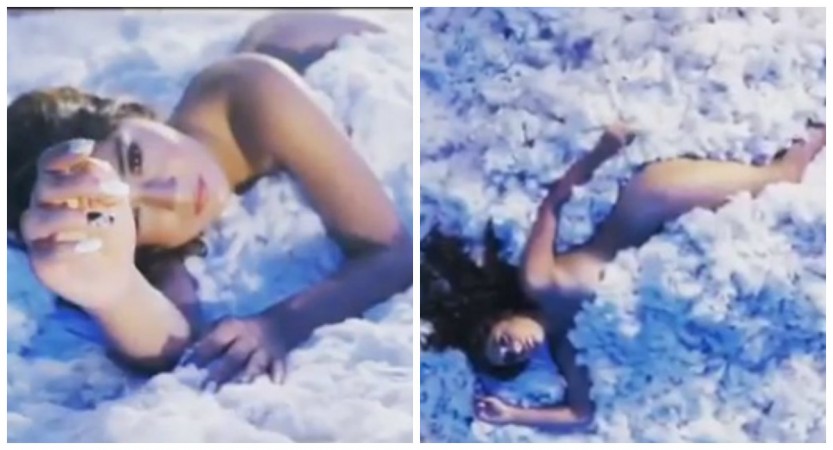 TV actress Sara Khan has come up with a song video titled Black Heart that features her both as the actor as well as the singer. However, more than the track, it is the video that grabbed most attention for Sara's bold avatar in it.
The song video shows Sara going completely nude, while aesthetically hiding her assets with a pile of cotton. Although Sara is someone who often makes headlines for her bold photoshoot and pictures on social media, this is the first time that the diva went to the extent of going fully nude.
She flaunted her curves, showing half of her butt and back. Although it has been shot quite aesthetically, many opined that it could have been made without Sara undressing herself.
The video on YouTube got series of comments, mostly people trolling her and asking the need to go nude in the song video. Although some of her fans praised her voice and beauty in the video, most of the responses on YouTube came in negative.
Sara had raised curiosity of the fans by sharing the first look of the song video some days ago. The first look also had showed her nude pose amidst a pile of cotton that helped her save her modesty.
Ironically, the song lyrics focuses on she being judged by people, and she got judged again for the same.
Earlier, the actress was in news her sister had mistakenly uploaded a video in which she was inside a bathtub without any clothe. Fortunately, she realised the blunder soon and the video was removed before it could go viral on the internet.
Watch the song video Black Heart below and some of the responses: