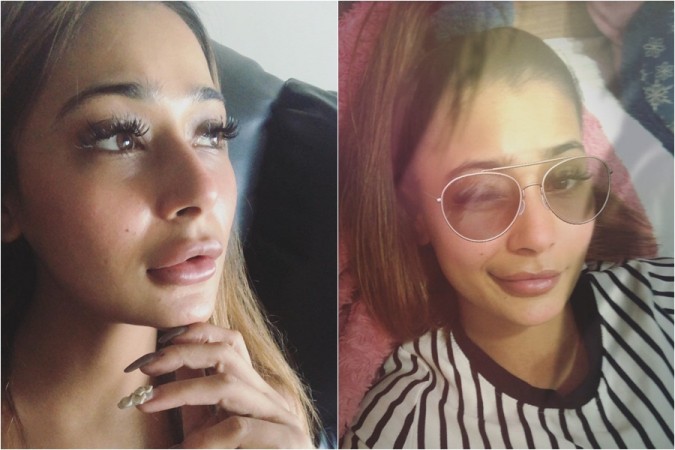 Bigg Boss fame and TV actress Sara Khan has been in the news for a while thanks to her bold pictures that she keeps uploading on her social media pages. And this time around, she is again headlines for her lip job that many people on social media felt that it has gone completely wrong. Squashing all the murmurs going around, the actress has now clarified that she has not undergone a cosmetic surgery but has used lip fillers.
"I've used lip fillers actually, it is not a lip surgery. So, the people who are saying its lip surgery, are wrong. It's a lip filler," Sara Khan told Bollywood Life adding that this is the first time she has done something to enhance her bodily looks.
Further clarifying about her alleged 'lip surgery gone wrong', Sara said, "There is news coming up that my lip surgery has gone wrong. I just want to share that my lip surgery has got completely amazingly done. And I love it myself so much. I'm loving it."
Sara was trolled mercilessly on social media soon after she uploaded a picture of hers flaunting her lips after the lip job. However, she said that the trolling doesn't affect her and rather she's having a good laugh at it.
"I'm loving it and laughing at it. The haters can go to any extent to get the attention and I'm used to trolling," Sara was quoted as saying.
Last year, Sara had made headlines when her sister Arya Khan mistakenly uploaded a video on Instagram when she was bathing Sara nude inside a bath-tub along with her sister.
Talking about the incident, Sara told IBTimes India, "I don't know what happened. Everything just went wrong. It was a video out of fun made by my sister. She deleted it in no time but it went terribly wrong. She was drunk little bit and then we were just having fun, and this thing happened. I just want to say that since the world has become so fast, sometimes these technologies are also harmful. So, we should be careful."
What are lip fillers?
To explain in short, Lip fillers is one of the popular facial procedures where a cosmetic surgeon injects dermal fillers called hyaluronic acid fillers to your lips in order to plump it. They are not permanent and would last only about 3 months to a year. There are different kinds of derms that are recommended after finding the right injector to enhance your lips.