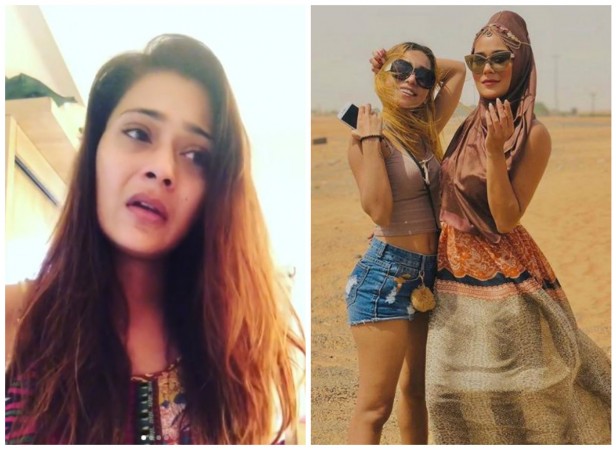 TV actress Sara Khan's beloved younger sister, Ayra Khan has left her after a fallout. Sara in a series of Instagram videos shared the incident, and explained why her sister left her, and why she deleted her pictures from Instagram.
Sara and Ayra have always been very close to each other, and the actress has hardly been without her sister in any of her Instagram posts. So, the sudden act of deleting Ayra's pictures has left her fans baffled, and they apparently started speculating various stories.
"Not a joke. For all those who r making up stories watch the full video ,,, yess deleting the pictures was my stupidity .. before anyone makes it dirty and write any wrong stuff or talk anything....
Hereby I share my heart out through my own platform ... as once u r a public figure u can hide nothing !!! No one must dare to make any false stories ... [sic]," she captioned her posts.
To set the fact right, a teary-eyed Sara said that Ayra has now become an adult, and she is grown up enough to take care of herself. The actress further said that she loves her sister like a mother, and she always wanted to keep her safe for which she apparently was getting over-protective towards her. This apparently made Ayra uncomfortable, and she left her.
She also said that she wanted her to avoid the kind of mistakes she made in life, and hence, she was interfering into her life, but with all good intentions. Explaining about deleting her pictures, Sara said that she did that out of anger.
"I was just trying to be a good sister kyunki jo galtiyan maine ki thi I didn't want her to repeat them. I wanted ki wo doston ki parakh kare, sahi galat samjhe. May be my way wasn't right but intentions were right. She left me and I let her go. So if you hear anything what happened between me and her, it's all rubbish. The truth is she has grown up beautifully and can manage herself. Bacche parents ko chhodkar chale jaate hain, I also came to Mumbai. And about deleting her pictures and stuff. I did it out of anger," she said in one of the videos.
International Business Times, India tried to contact Sara, but she just responded saying that whatever happened, she has said on the videos.
Watch the videos here:
Meanwhile, Ayra made an Instagram story in which she said she still loves her elder sister.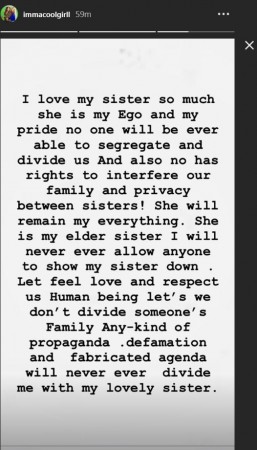 A few months back, Sara and her sister were in news when Ayra had mistakenly uploaded a bathroom video of Sara, in which she was without clothes. Fortunately, they realised the mistake soon, and the video was deleted before it could spread.